Deputy Speaker Suggests Way Out Of Nigeria's Foreign Exchange Crisis
Scarcity of the dollar and huge reliance on imported goods in Nigeria have been linked to the high exchange rate of the dollar to the Naira, a situation that has seen the parallel market rate rise to as much as 500 Naira to a dollar.
The Nigerian government has explored several strategies to push the Naira up, including a flexible foreign exchange policy but the rate is still high, and has been stable at a the moment, hovering around 460 to 490 Naira to a dollar in the parallel market.
However, the Deputy Speaker of the House of Representatives, Lasun Yusuf, thinks there is a solution found in a drastic decision that the nation has to take.
Amidst this crisis is the reality that Nigeria is blessed with large arable land but the nation still imports food.
Path Of Economic Doldrum
Honourable Yusuff is, therefore, suggesting that an end should be put to incessant importation of food produce from other countries.
Presenting three tractors and other implements to farmers in Osogbo, the capital of Osun State, the Deputy Speaker said the current problem of foreign exchange could be tackled if the country could look inward in providing its own foods.
Statistics show that Nigeria currently imports food items worth over two trillion Naira despite the huge agricultural resources and potential.
Worried by this trend, the call for all to return to the farm has been the chant of governments at all levels.
Perhaps, this prompted Honourable Yussuff to donate the tractors to the Farmers Association in Osogbo, Irepodun and Olorunda Local Government Areas, as he explained that the "Federal Government is very serious about agriculture and very committed to it. The only route we can take now to quickly get us out of this recession is through farming and any country that is not able to feed itself is not likely to quickly get out of poverty.
"I only urge our leaders that people in government should make deliberate efforts to go back to their constituencies to make an input in a manner that will allow people to get empowered and be developed. Other people can go to neither sectors. They can build hospitals, produce drugs and equipment and build schools. In the last six years I have been able to build about sixty classrooms".
He says a country with food importation running to about a third of its annual fiscal budget must know that it is threading on the path of economic doldrum irrespective of fuel slump.
While presenting the three tractors with coupled implement to the farmers through the Farmers Association in Osun State, the Deputy Speaker said all must support the government in its strive for sustainable development through agriculture which he believes is the surest path out if current economic hiccups for the country through food self-sufficiency.
"This is beyond empowerment. It has to do with a fundamental part of life. Farming is so important in the sense that the Yorubas have an adage that when you are able to feed yourself, you have solved half of your problem and it goes without saying that any nation that is able to feed itself, is on the path of greatness. So, what I have done today is basically because we are trying to kick-start our developmental programme in Nigeria and the only way we can do so is to first revert to a sector where we will be able to feed ourselves and that can only happen by going into extensive farming.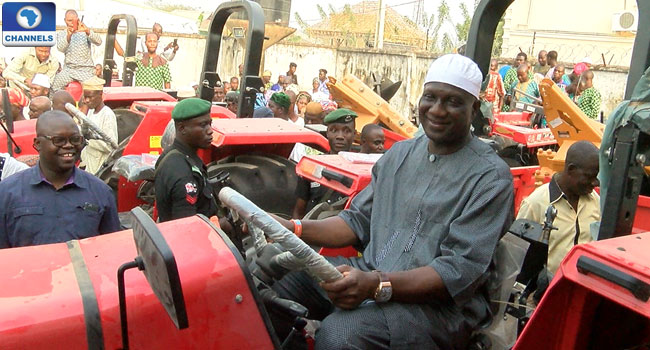 "Also, you all know farming by hoes and cutlass can not feed a family talk less of a nation, so I have only tried to tell people that yes we are asking them to go back to farm to work with this tractors. This programme was organised and supervised by the Farmers Association of Osun State and I am a farmer too. So, I've promised to be supporting them so that we can take Nigeria out of the rot," he stressed.
Receiving the tractors and a donation of two million Naira on behalf of the farmers, the chairman of All farmers Association of Nigeria, Osun State chapter, Kayode Afolabi, said farmers deserved more than lips service support.
He said: "Since crude oil seemed to be failing Nigeria, the surest way out is agriculture.
"We are extremely pleased with what has happened here. The provision of these three brand new tractors in addition to two million Naira cash offered to us by Honourable Lasun Yusuf. We are very pleased. The significance of this gesture is that, it will solve to a very great extent the challenges of farmers in the state. It has been one of our greatest challenges especially the lack of tractors and now that he has done it, to use it is a massive gift. We have never seen this kind of gesture before.
"We will use the tractors very well. This is non-political gift and amongst us we have people who are from different political group and we promise that we will make optimum utilisation of this tractors to boost Agriculture in our state".
The three tractors and coupled implements are said to cost about 60 million Naira.