Vehicles, Houses Razed As Fire Engulfs Fueling Station in Ekiti
A fueling station located on Akure Road in Mugbagba area of Ado-Ekiti, Ekiti State capital, was on Sunday razed along with other adjoining residential and business offices by an afternoon fire.
It was gathered that the trouble started at about 4PM when a tanker off-loading fuel at the station, began to emit thick smoke.
An eye-witness said that the smoke had emitted from the tanker for almost 20 minutes while the staff of the filling station did not pay much attention to it.
The fire eventually escalated when a driver who was queuing for fuel suddenly switched on the engine of his vehicle and sparkled off a huge fire ignited from the nearest pump in the station.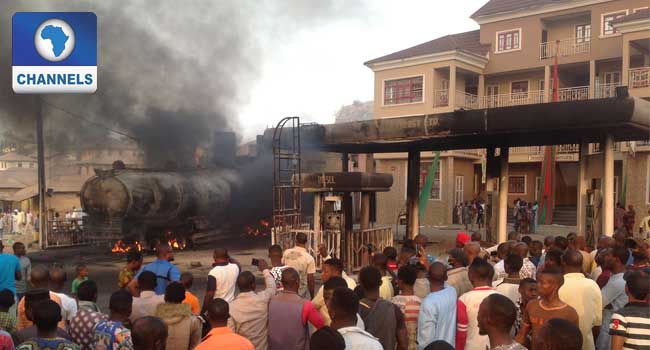 The ensuing inferno razed the nearby buildings, the filling station, and other nearby offices and vehicles parked within its premises.
It created a huge tension among the people of the state capital, many whom wailed and cursed while watching the havoc being wreaked by the fire.
Number of building and offices and vehicles razed and human casualties cannot be ascertained as at the time of filing this report.
The matter was worsened by the action of some irate youths, who were alleged to have prevented the men of the Fire Service to reach the area to quench the fire.
They were said to have been angered by the lateness of the Fire Service to the area.
However, it was gathered that intervention of the Police saved the day and facilitate the fire fighters' access to the scene to minimize the severity of the inferno.
When contacted, the Police Public Relations Officer of Ekiti Command, Mr Alberto Adeyemi, was not available for comments, as his mobile number was unreachable.