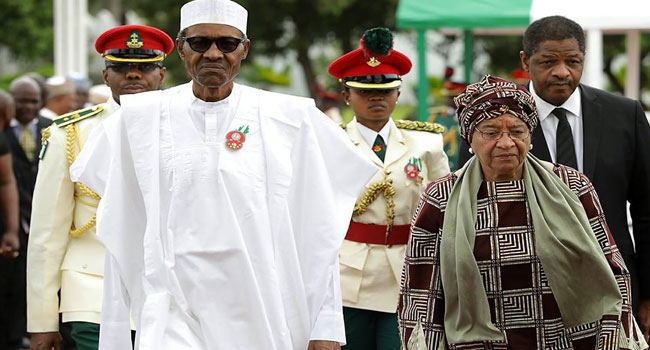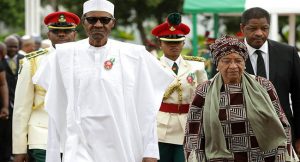 Nigeria's President, Muhammadu Buhari, Presidents of Sierra Leone and Liberia will visit Gambian President, Yahya Jammeh, on Wednesday, in another push for him to hand over power to the winner of the presidential election.
The decision for a second visit was reached at a meeting of West African Leaders held in Nigeria's capital, Abuja.
It had in attendance, the President of Liberia, Madam Ellen Sirleaf Johnson; Ghana's John Mahama and the President of Senegal, Macky Sall.
The leaders discussed the Gambian presidential election outcome, where President Jammeh is refusing to step aside after losing an election.
Jammeh has been in power since a 1994 coup, but he lost a December 1 election to businessman Adama Barrow. He has contested the results in a move condemned at home and abroad.
President Buhari will lead the mediation team to Gambia, Nigeria's Minister of Foreign Affairs, Geoffrey Onyeama, who briefed reports after the meeting, said.
"They agreed on the determination to resolve the Gambian political crisis in a manner that at every step of the way, conforms with the constitution of The Gambia and respects the will of the people of Gambia.
"They expressed particular concern at the deteriorating situation that has been reported in respect of security in The Gambia, in particular the closure of some of the radio stations and media houses, arrests that have been taking place and also the refugee situation that is being created with the mass exodus of a large number of people to the interior and to neighbouring countries.
"In view of this, the meeting agreed that a certain number of presidents will visit again, in two days time, President Jammeh in The Gambia," he said.
Committed To Resolution
A spokesman for the Nigerian presidency, Mr Garba Shehu, had said on Friday that President Buhari, as "the chief mediator of the crisis" is committed to "ensuring that the logjam is resolved".
Jammeh initially accepted his loss in the December 1 election, shocking Gambians who have lived through his rule since he took power in a 1994 coup, and triggering celebrations in the streets.
But a week later he changed his mind, saying the electoral commission had been biased by "foreign influences" and vowing to hang on despite regional and international condemnation.
Jammeh says ECOWAS has no right to interfere in Gambia's internal affairs, and that Gambians should await the outcome of a legal challenge that his APRC party has lodged at the Supreme Court.