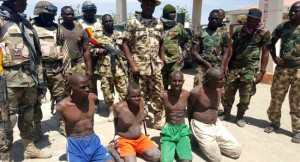 The Nigerian Army says 1,250 suspects absolved from possible links with Boko Haram were released from detention facilities in 2016.
Brigadier General Victor Ezugwu, the General Officer Commanding (GOC) Seven Division of the army, gave the figure on Monday at a meeting with the Head of Sub Delegation of the International Committee of the Red Cross (ICRC), Mr Beat Mosimann.
Ezugwu said the cleared suspects were released in about seven batches after investigations which certified they had no links with Boko Haram.
The GOC explained that housing suspects in military facilities was a multi-agency affair which involves collaboration with international agencies to complement the army's effort.
Ezugwu said: "So the ICRC came to consult me on how we can collaborate to ensure that the suspect's detained in our facilities have the very best of what we and them can offer.
"We have reached some far reaching decisions on how we can improve in terms of feeding them, exercises, giving them the best in terms of accommodation and so we are hoping that things will get better this year as we continue to collaborate to ensure that suspects are given the best kind of humane treatment one can offer".
Brigadier General Ezugwu also told reporters that there were plans to provide medical doctors and medical personnel to ensure detainees were checked at least three times a week to attend to the health needs of the suspects.
"In terms of feeding, we are providing them solid Nigerian meals while they (ICRC) are going to be responsible for supplements for the wellbeing of the detainees.
"We also collaborated in the areas of release of suspects. In the last one year we have released Seven batches totalling 1,250.
"So we are keeping this regular release because the Chief of Army Staff wants us to ensure that only people who have connection with Boko haram and have insurgency issues to sort out are detained.
"Those who do not have cause to be there are not there. And we have assured them that it's going to be a bi-monthly affair," he added.
The ICRC has been engaging the Army, as part of its collaborative effort to fill in where there are gaps, all aimed at ensuring suspects detained are well catered for.
"We have several programmes but the main programme is to help IDPS who are in the camps and are going back and we have a very big programme to help them go back.
"Other programmes include corporation with the army in terms of protection and how we can go ahead and we are happy with the discussion.
"Other issues discussed are linked to some protection which is our mandate from the Geneva convention that is the situation of detention mainly to see how we can continue to work together," Mr Mosimann said.