Ortom, Al-Makura To Visit Agatu Jan. 18 For Mediation Talks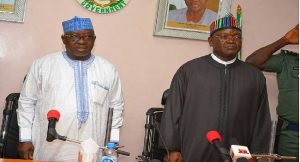 Governor Tanko Al-makura of Nasarawa state on Tuesday evening joined his Benue counterpart, Samuel Ortom, in a joint security meeting at the government house, Makurdi.
The meeting bordered on the issues of insecurity affecting the border towns of Agatu and Loko where herdsmen cross the River Benue into Agatu, giving rise to the clashes between farmers and herdsmen.
Journalists were barred from the meeting as it was held behind closed doors.
At the end of the meeting, both governors said that they had agreed to visit Agatu Local Government Area in Benue state to mediate between the warring parties of Fulani herdsmen and Agatu indigenes who have been at loggerheads for the past five years over cattle grazing.
Briefing newsmen on Monday night at the government house Makurdi, Governor Samuel Ortom said that it was imperative, both Agatu indigenes and Fulani herdsmen forgive each other and forge a common front for the return of peace to Benue and Nasarawa border communities.
On his part, Mr Al-makura said that he remained committed to achieving peace between residents of Agatu in Benue state and Loko in Nasarawa.
The security council of both states, including traditional rulers visit Agatu on January 18, 2017.
Attacks by herdsmen on different communities in the states have led to the deaths of hundreds while thousands have been displaced.
There have been several calls on both state governments to address the issue, the latest being a call on Benue lawmakers to pass the open grazing prohibition bill that will streamline the activities of herdsmen in the state.
Hundreds of victims of herdsmen attack in Benue State stormed the State's House of Assembly complex under the aegis of Movement Against Fulani Occupation in peaceful protest.