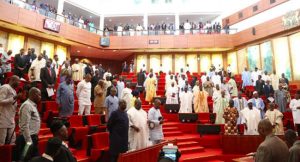 The Senate is asking the Nigeria Customs Service to suspend, with immediate effect, the policy of an outright ban on vehicle importation through land borders.
A federal lawmaker, Senator Jubrin Barau, drew the attention of the Senate to the recent federal government policy.
He argued that it is not economically expedient to ban the importation of vehicles through the country's borders as the policy would lead to the loss of nearly 500,000 jobs by people who import vehicles.
Lawmakers who spoke shared the same position.
After the debate, the Senate demanded a suspension of the policy which took effect from January 1, 2017.
The Senate also directed its committee on Customs to investigate the circumstances which led to this recent policy decision of the federal government.
The Nigerian Customs Service already kicked off with the implementation of the policy with officers deployed to man targeted smuggling routes mainly around the Seme border.
Illegal checkpoints and routes were dismantled while the Customs officers looked to work closely with anti-smuggling units of the NCS and that of the federal operations unit.