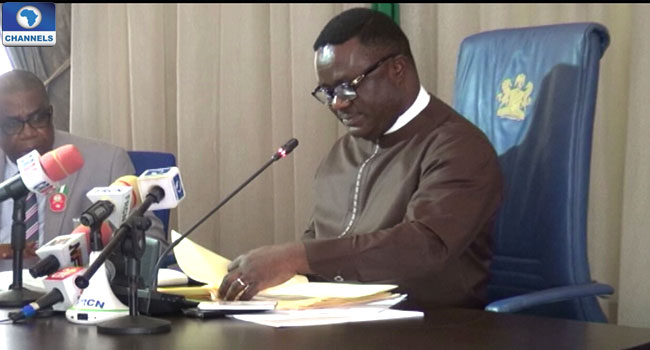 The Cross River State Government has signed into law a 2017 appropriation bill of 707 billion Naira into law.
The budget christened "Budget of Infinite Transposition" will cover medium term expenditure framework for capital projects in 2017, 2018 and 2019 fiscal years.
It was handed over to the State Governor, Professor Ben Ayade, at the Government House in Calabar, the Cross River State Capital by the Legislature, led by its Speaker, John Gaul-Lebor.
Expatiating on the new budget, Professor Ayade said the budget was a new budgeting concept where all capital heads were being captured.
"It is a budget that has an infinity clause which stretches beyond 2017 and saves us the agony of continuous planning and re-strategising. This year is a year of action because our spirit is desperately determined to make a difference," he said.
According to him, "the energy that is expected to characterise 2017 budget is to drive the very core of the needs of our people which therefore defines the ambition and the level of weight that has got the state into an epoch budget of 707 billion Naira.
"It will fast-track the execution of various projects of his administration ranging from the Super Highway project, the Deep Sea Port project, the Rice City project and the Calabar pharmaceutical company as well as other projects, with a view to creating job opportunities in each of the senatorial district among other developmental initiatives," the Governor said.
While justifying the adoption of the new budgetary strategy, Professor Ayade explained that "the economic situation we find ourselves as a nation requires us to carry out such huge thinking and heavy planning.
"So, the budget strategy we have adopted is to focus on all our investments at this particular time, stretching from our garment factory, the pharmaceutical factory, Rice City, banana plantation investment, the cocoa processing facility, rice mill and other huge investment outlays that have short gestation period across the state, bearing in mind the huge inflows that will come to us at the end of the day that will decouple us from federation allocation".
Governor Ayade, who thanked President Muhammadu Buhari for believing in the industrialisation drive of his administration, said "the vision of the government is one that has the capacity to take the nation out of recession with the actualisation of the proposed superhighway and Bakassi Deep Seaport which gives us the hope that in terms of challenge, the President has a responsibility to give a budget support".
Also on ground to witness the signing of the budget that was submitted to the House of Assembly on October 31, 2016, were Members of the Executive Council.