Foiled Attack: Troops Kill 10 Boko Haram Terrorists In Borno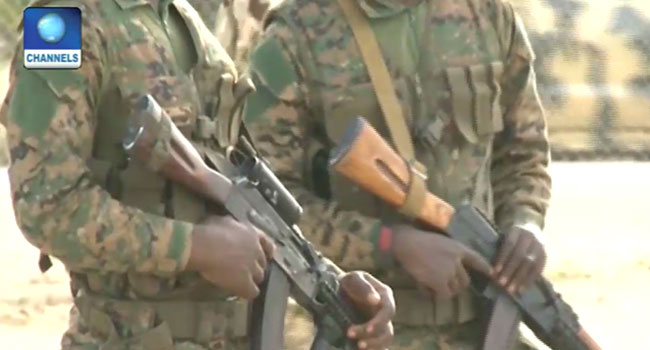 The Nigerian Army (119 Battalion and 133 Special Forces Battalion of 7 Brigade), of the Operation Lafiya Dole in Kangarwa LGA of Borno State, have killed 10 Boko Haram Terrorists who attempted to attack their location on Friday.
This was revealed in a statement signed by the Director Army Public Relations, Brigadier General Sani Kukasheka Usman.
The futile attack which was launched by the terrorists group from the shores of the Lake Chad in the evening, was said to have lasted till late at night.
With the assistance of the Nigerian Air Force Intelligence, Surveillance and Reconnaissance planes, the planned attacks were however foiled.
"The resilient troops repelled the incursion and in the process, killed 10 insurgents and wounded several others," the statement said.
Some items recovered from the armed terrorists include: 1 Pulemyot Kalashnkova Machine (PKM) Gun, with 67 rounds of ammunition, 1 AK-47 Riffle with 18 rounds of ammunition, 2 AK-Rifle top covers and 3 Dane Guns with 1 cartridge.
Others include: 1 Rocket Propelled Grenade Tube with 3 bombs, 1 Rocket Propelled Grenade charger and smoke grenade, 1 Hand Held (HH) Motorola Radio an antenna, 1 copy of a holy book and Boko Haram terrorists flag.
Unfortunately, three soldiers paid the supreme price in the course of the encounter, while 27 soldiers sustained various degrees of injuries.
The bodies of the gallant soldiers and those injured have since been evacuated for treatment.
Meanwhile, the troops have continued to trail those terrorists that escaped with gunshot wounds.
They have also intensified vigilance and high level of alertness as they make concerted efforts to clear the remnants of the terrorists in various nooks and crannies.