Mimiko Appoints New Accountant General Of Ondo State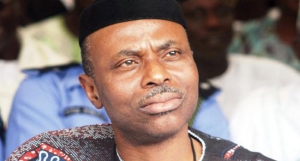 Ondo State Governor, Dr Olusegun Mimiko, has appointed Mr Akindolire, Herbert Olaolu as the new Accountant General of Ondo State.
Eni Akinsola, the CPS to the Governor in a statement, announced the appointment which is to fill the post made vacant after the retirement of the former Accountant General, Elder F. Lanke Ajibokun, in the later part of 2016.
Akindolire who hails from Ile Oluji, in Ile-Oluji/Oke Igbo Local Government Area of Ondo State, is a certified National Accountant and a certified member of the Association of National Accountants of Nigeria (ANAN).
He is a full member of the Nigerian Institute of Management (NIM) and a Certified Financial Consultant and Fellow of Institute of Financial Consultants of USA and Canada.
The 56 year old, is also an Associate of the Chartered Institute of Taxation of Nigeria and a member of International Consortium on Governmental Financial Management, Washington DC, USA among many others.
He was Senior Accountant, Ondo State Electricity Board, Project Accountant, United Nations Development Programme (UNDP), on Environment and Natural Resources Management, Principal Accountant, Ondo State Board of Internal Revenue, and Chief Accountant, Ministry of Finance, Economic Planning and Budget before being appointed Assistant Director of Finance and Accounts, Government House and Protocol in 2003, a position he held till 2006.
He thereafter became Deputy Director, Finance and Accounts, Ministry of Finance before being made Director, Consolidated Accounts and Head of Project, Financial Management Unit of World Bank Assisted Projects in the Office of the Accountant General, Ondo State in June 2012 where he was before his appointment.
Married with children, Akindolire has attended tens of courses home and abroad has also delivered papers and lectures on Accounting and Financial Management.