BBOG Arrives Northeast On Guided Tour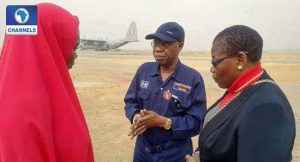 The BringBackOurGirls Group and a Federal Government delegation are in the North East to witness efforts by the military to rescue the remaining abducted Chibok School girls.
Before they left the Abuja airport, there was a mild drama as the group insisted that the Minister of Information, Lai Mohammed boards the same aircraft with the BBOG delegation.
The initial plan was for the BBOG delegation to be conveyed to Yola alongside some journalists while the Minister will join another aircraft.
But that was turned down at the airport tarmac by the BBOG delegation, who insisted that none of their member will board the flight if the Minister is not joining them.

After a series of explanations, the Minister conceded to joining other participants in the same flight.
The government delegation also included the Minister of Defence, Mansur Dan-Ali and the Chief of Air Staff, Air Marshal Sadiq Abubakar.
Meanwhile, on arrival at the Air Force Base in Yola, the Nigerian Air Force briefed on their operations so far.
The Commanding Officer, Air Vice Marshal Nurudeen Balogun explained that over two billion naira was spent in 2016 to ensure a functional air component of the Operation Lafiya dole.
Air Vice Marshall Balogun informed members of the Bring Back Our Girls group that efforts were on to find the remaining abducted Chibok schools girls and other persons, who were abducted by the Boko haram insurgents.
He added that the latest release of abducted persons was secured between January 7 and 12 and they have been handed over to the troop in Maiduguri.