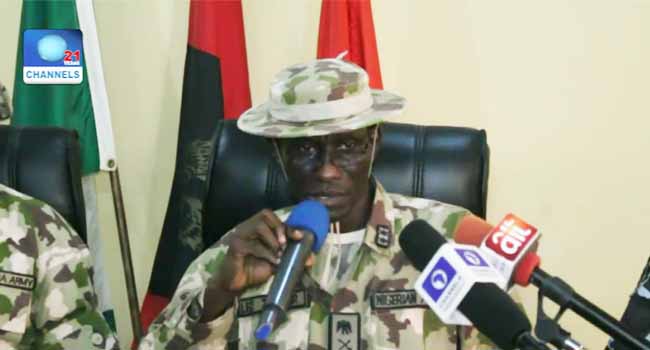 Theatre Commander of the Operation Lafiya Dole, Major General Lucky Irabor, has released 257 screened and cleared suspected Boko Haram terrorists to the Borno state government.
The handing over exercise, took place during the 2017 Armed Forces Remembrance Day Celebration held at the Ramat square Maiduguri, Borno State.
This was revealed in a statement signed by the Deputy Director Army Public Relations (7 Division), Colonel Mustapha Anka, the force.
Meanwhile, the State Governor, Alhaji Shettima Kashim, in his remarks, called on Nigerians to imbibe the spirit of tolerance and understanding while pursuing their daily endeavors.
According to him, this would help in averting misunderstandings, which he said could accumulate to full blown war and destruction of lives and properties.
Shettima, who was represented by the Deputy Governor of the state, Alhaji Usman Durkwa, said the Federal Government is mindful of dangers associated with military service; especially in the case of those who had to pay the supreme prize or suffer permanent disabilities in the course of defending the sovereignty of the nation.
"We as government are mindful of your sacrifices to the nation and we will continue to assist the Legion in any way we can."
He also used the occasion to commend the effort of security agencies in the current security challenges facing the northeast region of the country, while assuring them of the government's support.
Furthermore, he urged Nigerians to always support the veterans, departed heroes as well as their families.
President Muhammadu Buhari, also commended troops serving within Nigeria and across Africa, for their sacrifice for the country and the continent.
The highlight of the event was the laying of wreath in commemoration of the fallen heroes by Mr Durkwa, the Speaker of the State House of Assembly, the Shehu of Borno, military and para-military commanders, as well as the Chairman Nigerian Legion, Borno state chapter.
The guests also visited the Military Cemetery at Maimalari Cantonment, where prayer, was offered for the repose of the fallen Heroes.
They then proceeded to the 7 Division Medical Services and Hospital for a sympathy visit to wounded soldiers.
The ceremony, is the first since the emergence of insurgency in the State.