Youths Protest Alleged Irregularities Of Shares Payment In Rivers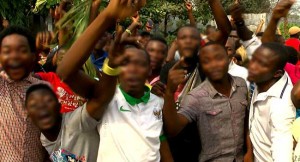 Youths in Eleme Local Government Area (LGA) of Rivers State have protested the alleged negligence of Indorama Petrochemicals to address the payment of dividends accruable to them.
The protesters, drawn from the six communities of the LGA, on Monday stormed the major streets in the state to press home their demands.

The leader of the protest, Benjamin Ngokanya, alleged that a company, Elano Investments Limited, which was appointed to access the shares on behalf of the host communities, had confiscated the returns.
The youths accused the company and Indorama Petrochemicals of working together to deprive the communities of their benefits.
However, both companies denied the allegations.
The Head of Corporate Communications at Indorama Petrochemicals, Jossy Nkwocha, briefed Channels Television crew on their own side of the story.
The matter seemed to have become more controversial, as another set of youth leaders were apparently in support of Elano Investments.
However, various stakeholders have called for a quick resolution of the issues to avert possible violent clash.