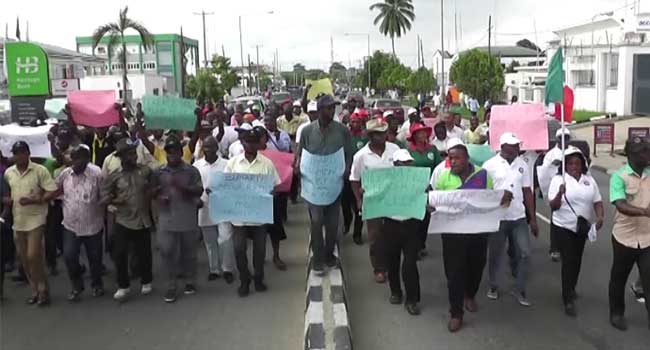 The Senior Staff Association of Nigerian Universities (SSANU) has condemned the alleged attack of its members at the Federal University of Technology, Akure (FUTA).
The Western Zonal Chairman of SSANU, Alfred Jimoh, made the position of the organisation known during an interview with journalists in Ibadan, the Oyo State capital.
As the warning strike embarked upon by the senior staff members in FUTA entered the fourth day, Mr Jimoh insisted that the purported brutalisation of their members is unacceptable.
He claimed that the employees were on peaceful demonstration before Police descended on them, saying at least 20 members of the union have been arrested.
The zonal chairman accused the Vice Chancellor of FUTA, Professor Biyi Daramola, of masterminding the attack on the SSANU members who he said were protesting peacefully without any breach of the law.
He alleged that some members of the union in FUTA were seriously injured and have been hospitalised.
SSANU has called on the Federal Government to intervene in the matter with a view to calling the Police to order, maintaining that they have no moral right to molest and brutalise innocent citizens.
The union also appealed to the Inspector General of Police and all the relevant authorities of the Police high command to wade into the crisis to encourage whistle blowing on corruption.
They asked the government to beam its searchlight on activities of some vice chancellors and prosecute those found wanting.
The VCs identified are: Professor Daramola, Professor Bamidele Oyewole of the Federal University of Agriculture, Abeokuta and Professor Michael Adikwu of the University of Abuja.