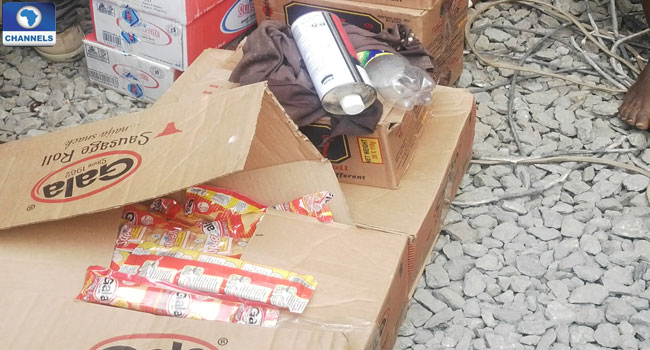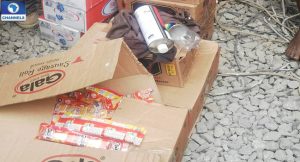 Police have arrested a suspect in Abia State allegedly involved in repackaging of expired food products.
Described as a worrisome act, the police said Nnenna Sunday, 28, has perfected the act of using chemicals to erase batch production numbers and expiry dates on snacks.
It is an act that endangers the lives of the buyers of the expired products, but yet reinforces the need for everyone to check well before buying any food product.
"My Hands Are Clean"
After her arrest, she claimed to be innocent and obeying the orders of her boss.
"I did not do anything. They have been doing it before I came. I am not the first or the second. I do not understand this type of temptation.
"My hands are clean. Police saw us wiping out the expiry dates on the snacks and it is my oga (boss) that asked me to do it because that is how he has been doing it before he employed me," the suspect said.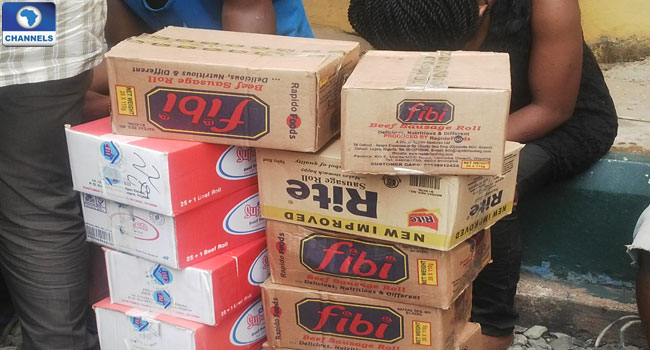 She further claimed to have joined the company recently and do not know the boss very  well, but many onlookers at the scene questioned what her conscience had told her while she engaged in the act.
The arrest, according to the police was part of its determination to continue the implementation of the anti-crime strategies which are proactive in nature and geared towards ensuring a safe and secured environment for inhabitant of Abia State.
The Abia State Police Command that made the arrest reiterated its readiness to sustain the fight against heinous criminal activities by improving on the existing security strategies which include visibility policing, raiding of criminal hideouts, intelligence led policing amongst many others.
While parading the lady and other suspects in Umuahia arrested by the state police command, the Commissioner of Police, Adeleye Oyebade, told reporters that some were suspected fraudsters.
He disclosed that the Area commanders, Divisional Police Officers and all specialised outfit in the command had been reminded to re-invigorate and re-engineer the aggressive anti-crime strategies to ensure a free environment.
Mr Adeleye called on every citizen to partner with the police to maintain a peaceful atmosphere and warned that procession from any group in whatever name would not be tolerated in the state as the fundamental right of all citizens must be protected.
This is coming just as members of the Indigenous People of Biafra (IPOB) had staged a rally they said was to support 'their man', President Donald Trump.
"I want to appreciate all those that are partnering with the police, I have said it that we are going to practice reassurance policing.
"It is part of reassurance policing that the members of the public gives us information and we use the information to combat the crime and menace of armed robbers on the highways,
"I want to encourage everybody to be security conscious. Security is everybody's business. Please, feel free to report any strange face or movement to the nearest police.
"I am also using this opportunity to warn on the members of the Movement for Actualisation of Sovereign State of Biafra (MASSOB) and IPOB to ensure that they do not come out to negate the constitutional provision of this country called Nigeria.
"This is because they can never be a republic within a republic. Therefore the Nigeria Police would continue to ensure that all the law abiding citizens that upheld the tenets of freedom of movement do not use such to disrupt the movement of other persons or people in the same society," he stated.
I Took It As Scrap
The Police Commissioner further reassure all residents of safety of their lives and property, saying they were statutory responsibility of the police.
"We shall continue to do that to ensure that business thrive in Abia State and to ensure that the existing peace is not compromise," he promised.
Some of the suspects specialised in stealing Enugu Electricity Distribution cables from the transformer while some were members of a gang of notorious criminals terrorising Elughu Nkporo Ohafia Local Government Area.
Ogbonna Ifegwu, who is a 40-year-old man, allegedly stole components of am vandalised EEDC transformer.
He said: "I sell scraps so when I saw the cables on a damaged transformer, I removed it thinking that it was not useful. I took it as a scrap".
One of the notorious gangster, Nkeiru John Onuoha, claimed that they did not commit any crime.
"We did not commit any crime, what happen is that after the local government election held in December 2016, we decided to hang around to collect our money from one "Skypo", that was how we were arrested,
"I am not a thief. I live in Lagos. I just came back during the Christmas," he claimed.
The arrests of the criminals, according to the police led to recovering of huge amounts of money and guns from suspects.  Police said all the 25 paraded suspects, on completion of investigation, would be charged.