Police Ask Fulani Herdsmen, Farmers To Shun Fracas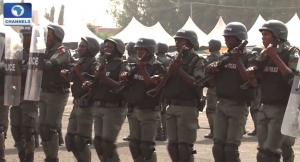 The Benue State Police Command has red a Riot Act to violent Fulani herdsmen and criminal elements among farmers in the state, urging them to desist from fermenting the yearly farmers and herdsmen clashes or risk prosecution.
The Commissioner of Police, Mr Bashir Makama, handed down the warning at the inaugural meeting convened to implement the joint security and peace agreement brokered by governors Samuel Ortom of Benue State and Mr Tanko Al-makura of Nasarawa State, between Agatu farmers and Fulani herdsmen.
Mr Makama advised the warring Agatu farmers and the herdsmen to embrace peace by reconciling their differences. He warned the Fulani herdsmen to avoid taking their animals into farm lands to avoid frictions.
At the meeting, an agreement was reached between governors Ortom and Al-makura, on the one hand and Agatu farmers and fulani herdsmen on the other hand, to ensure peace throughout the grazing season this year.
Stakeholders and parties necessary for the successful implementation of the terms of agreement witnessed the agreement signing held at the Police Officers' Mess.
Some of the Area Commanders, who shared their experiences, recommended how well to execute the assignment.
While all hands are on deck to ensure peace reign between Fulani herdsmen and farmers during the period of dry season grazing, adequate security operations to enforce compliance on the part of offenders may just be the solution.