Cleric Advises Akeredolu To Run Government Like Awolowo, Ajasin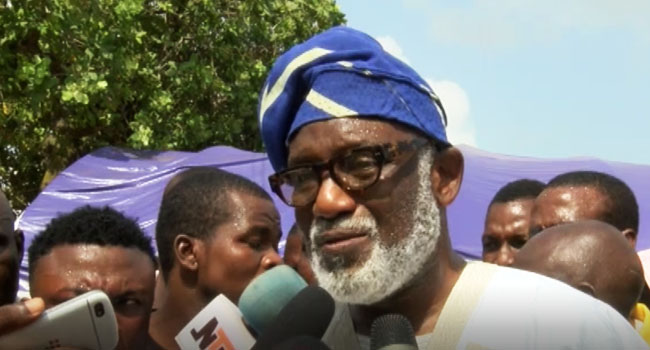 The Ondo State Governor-elect, Mr Rotimi Akeredolu, has been advised to follow the steps of some past leaders in ensuring good governance.
The Coordinator of Christ Apostolic Church (CAC) Oke Erio, Ekiti State and founder of CAC Grace of Mercy Prayer Mountain (GMPM), Prophet Sam Olu-Alo, asked Mr Rotimi to take a cue from the late Premier of Western Region, Obafemi Awolowo, and late former Governor of Ondo State, Adekunle Ajasin.
Prophet Olu-Alo, who said the two late elder statesmen executed life-transforming projects, programmes and policies that people still benefit from, tasked the awaiting governor not to fall short of such when he assumes office in February.
The cleric made the call during the three-year anniversary thanksgiving of CAC GMPM (Adamimogo Outreach) in Akure, the Ondo State capital which climaxed its nine-day 'open air crusade' at the GMPM grounds.
He urged Nigerians irrespective of class and status to embrace God with a view to getting Nigeria out of its present condition.
The clergyman also tasked President Muhammadu Buhari and the 36 state governors to execute people-oriented projects that would outlive them.
Put God First
"They should implement projects and policies that (would have) positive impact on the land and people which will speak for them long after they might have left office or even dead.
"That is how they can always be remembered and fulfil the purpose (for which) God put them in office.
"The Governor-elect of Ondo State should come to office with that mind and work for the good of the people.
"He should put God first and do the will of God who made his electoral victory possible. He should embrace all without discrimination," Prophet Olu-Alo said.
Nigeria Needs Prayers
The cleric said CAC GMPM Adamimogo Outreach came into being to ensure restoration of the souls that had wandered away from God, to deliver the oppressed, to reveal God's mind to human beings and let them know that God still answers prayers.
He urged Nigerians of all classes and status to be determined to return to God.
"For instance, when you look at America; it is not as if the people don't (commit) sin but they fear God. They value human lives.
But here (in Nigeria), there is no value for human lives; even murderers are being celebrated.
"There is no fear of God; there is need for repentance, then prayers and love. Nigeria needs prayers.
"This is why I still reiterated the need for a day to be set aside for men of God across different denominations to gather to pray for the country".