Nigeria Restates Commitment To Ensuring A Stronger, More Robust African Union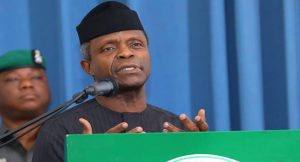 Nigeria will continue to work together with other African countries to ensure that the African Union becomes a stronger and more robust organisation for the benefit of the continent and its people, the Vice President of Africa's biggest economy, Yemi Osinbajo, has said.
Professor Osinbajo, who is at the moment the acting President, spoke on Monday while receiving a Special Envoy from President Ismail Omar Guelleh of Djibouti, at the Presidential Villa.
According to the Vice President, "it is important for Africa to always put the best foot forward. We will continue to work together with the President of Djibouti to make AU (African Union) stronger and more robust".
The Special Envoy, Ahmed Cheick Moumin brought a message addressed to the Nigerian President, regarding Djibouti's interest in one of the positions up for contest in the AU elections scheduled for later this month, seeking Nigeria's support.
The Djibouti's Presidential Special Envoy, who is also the country's Justice Minister, stated that his country was requesting that Nigeria should consider supporting its candidate for Deputy Chairman of the African Union Commission, and expressed gratitude to the Nigerian government for the hospitality he and his delegation had enjoyed since their arrival.
Responding, Professor Osinbajo welcomed the Special Envoy, noting that Nigeria and Djibouti do enjoy "very good diplomatic relationship over the years," and also expressed appreciation to the President of Djibouti for the country's support of Nigeria in various international platforms.
He assured him that the Nigerian government would consider the candidate, observing that the position is one that has to be occupied by the right person. The Vice President then sent warm greetings to the President of Djibouti.