45bn Naira Too Small For Northeast Reconstruction – Sani Zorro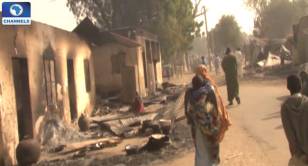 Chairman of the House of Representatives Committee on Internally Displaced Persons and Refugees, Mr Sani Zorro says the 45 billion naira earmarked for the reconstruction of the northeast Nigeria is too little.
Zorro said the infrastructure destroyed by years of Boko Haram insurgency far exceeds the amount the federal government is willing to part with.
"We take specific note of the cost of infrastructure destroyed which he (Governor Kashim Shettima) told officials of the National Assembly (and) which he put at 9.6 billion dollars saying that Borno state has suffered the destruction of infrastructure close to seven billion dollars.
"Now the federal government has earmarked only 45 billion naira in this year's budget for the reconstruction of the northeast? I just hope that this 45 billion is just counterpart funding. I just hope it is a component; maybe there is a bigger funding coming from elsewhere," he said.
Zorro and his colleague – the Chairman House Committee on Air Force, Muazu Lawan, were in Borno state to convey the feelings of the House of Representatives over recent attacks in the state.
"Our mission is on behalf of the House of Representatives and its leadership and apart from commiserating with the government we have also visited the state specialist hospital where we saw those who have suffered various degrees of injury and we are happy to report that all those who were admitted in danger list are now recovering very fast.
"We were able to talk to each one of them and offered our sympathy. We have also been to the office of UN OCHA where we met a lot of humanitarian partners and we have interfaced with them. "
However, the Chairman of the House Committee on Air Force, Muazu Lawan, believes the specialist hospital Maiduguri needs to be expanded to meet the growing needs of citizens.
"We went to the specialist hospital and we saw the injured, they are responding to treatment and we saw government's effort.
"The only thing the government has to put in place is expansion of the hospital. There are a lot of room for expanding the healthcare institution, not only because of this incident but for the future, anything can happen.
"We are not hoping for things of this nature to be reoccurring, we hope it will be the last."