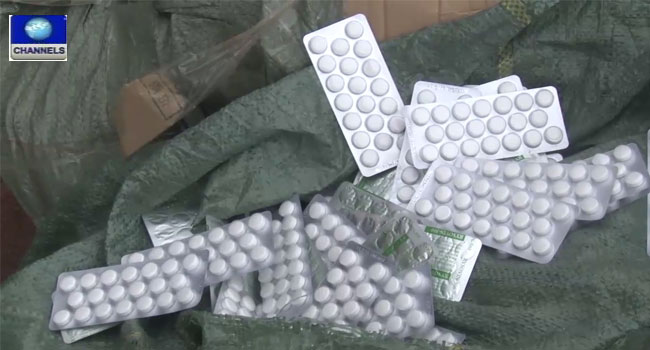 The National Agency for Food and Drugs Administration and Control (NAFDAC) has received accreditation for the testing of raw materials at its Southeast Zonal Laboratory in Anambra State.
The accreditation certificates were presented to the agency by the International Organisation for Standards (ISO) and the International Electro-technical Commission (IEC).
Speaking during the auspicious event, the Minister of Health, Professor Isaac Adewole, congratulated NAFDAC for the feat, but reminded the agency that the major challenge ahead was in maintaining the accreditation,
"It will be a major shame to lose it," he warned.
Professor Adewole responded to issues concerning tariff paid on raw materials in the pharmaceutical sub-sector and maintained that he had taken up the issue to the Federal Government for immediate reappraisal to save the local industry.
The usually quiet premises of the South-east Zonal office of NAFDAC in Agulu, in Anaocha Local Government Area of Anambra State came alive with sounds of music and presence of dignitaries from far and near including the Deputy Governor of the state, Dr. Nkem Okeke, the Minister of Health and the Director General of NAFDAC, Dr. Mrs. Yetunde Oni, among other important personalities.
They had gathered to witness the presentation of the certificates of accreditation for testing of raw materials in respect of 17025/2005 of the South-east Zonal NAFDAC Laboratory by the ANSI-ASQ International Accreditation Board.
The Acting Director General of NAFDAC told the gathering that the accreditation from the two bodies that promote standards globally would not only enable the laboratory to undertake multiple pharmaceutical testing tasks but stressed that it depicted that the South-east Zonal laboratory was competent and internationally recognised to produce valid and accurate results.
The representative of the Accreditation body, Dr. Jude Nwokike, pointed out that the feat achieved by NAFDAC was indicative of its competence in the pharmaceutical analytical process.
Rounding off the speeches, the Deputy Governor of Anambra State commended NAFDAC for efficient services, but decried the activities of fake drugs dealers and distributors in the state.
He highlighted the efforts of the state government in checking the menace.
The event is wrapped up with the presentation of the certificates to the Acting Director General of NAFDAC, an inspection tour of the Laboratory facility and a group photograph as a memoir of the special occasion.