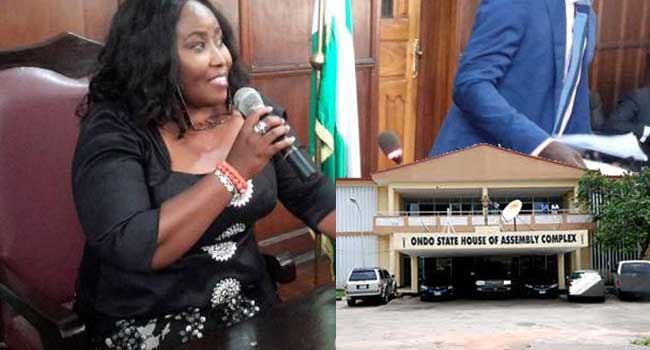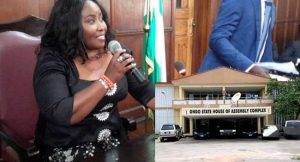 The suspended Speaker of the Ondo State House of Assembly, Honourable Jumoke Akindele has reacted to her purported impeachment by some members of the Assembly on allegations of corruption.
She said that the aggrieved members could not have removed her from office as the allegation of fraud levelled against her had not been proven to be true.
She denied the allegation of fraud by her leadership, saying it was all politics as the cash was not found on her or any member of the House but on the paymasters who is the custodian of monies belonging to the Assembly.
Mrs Akindele called on her colleagues to quickly retrace their steps.
Meanwhile, the newly elected Majority Leader of the House, Olamide George representing Akure North Constituency insists that the new leadership has come to stay.
He assured the members and people of the state that the new leadership of the House would work with transparency.
He lamented that the staff of the House of Assembly had not received their salaries and announced that the new leadership had agreed to use the seized money for their welfare.
He assured the members of the House that the new Speaker would operate an open door policy.
Also speaking, a member representing Odigbo Constituency 1, Iroju Ogundeji said that the new leadership of the House has set up a panel that will investigate how the money was looted from the coffers of the House.
The crisis in the Ondo State House of Assembly started when a sum of 15 million Naira was discovered with the Paymaster of the House by some members at the premises of the House chamber.
During interrogation, the Paymaster was said to have told them that he was acting on the directive of the leadership of the House.
Members of the House who were aggrieved by this insisted it was unlawful and corrupt for the leadership of the House to withdraw such cash without the knowledge of the members.
To this end, the aggrieved members suspended the speaker, Jumoke akindele and two other principal officers; the Deputy Speaker, Fatai Olotu as well as the Majority Leader, Ifedayo Akinsoyinu.
An acting Speaker, Malachi Coker representing Ilaje Constituency 2 was elected, while Ayodeji Arowele, Owo Constituency 1, and Olamide George, Akure North Constituency were elected as Deputy Speaker and Majority Leader respectively.
The new governor belonging to the All Progressives Congress (APC) would be inaugurated in less than one month.