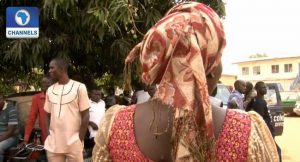 Usually, the practice is to give help to the widows but one Mrs Dauda Maiduguri seems to have a pathetic story to tell.
She says she has been defrauded 2.9 million Naira by one Philemon Ibrahim of Global Funds International who is being interrogated by the Police.
The Benue State Commissioner of Police, Mr Bashir Makama, is warning against such practices, advising Nigerians not to involve themselves in such "get rich quick" means of getting money.