The traditional rulers in Rivers State have called on President Muhammadu Buhari to prevail on the Police High Command to restore the security details attached to Governor Nyesom Wike.
The appeal comes as Governor Wike assured them that all the Local Government Areas (LGAs) in the state would have at least two projects as his administration spreads development to the nooks and crannies of the state.
The Chairman of the Rivers State Council of Traditional Rulers and Amanyanabo of Opobo Kingdom, Jeki V, King Dandeson Douglas Jaja, made the call on Monday at the 105th quarterly meeting of the council.
He also called on the Inspector General of Police to revisit the dismissal of six policemen who he said protected the Governor when he came under attack on December 12, 2016.
"We call on well-meaning Nigerians, especially our President and Commander-in-Chief, Muhammadu Buhari, to prevail on the Inspector General of Police to restore our governor's security details to their former position.
"As royal fathers, we do not want to be partisan but we also want to use this medium to call on the Inspector General of Police to revisit the dismissal of these policemen who were merely carrying out their legitimate duty of protecting their principal; the Governor of Rivers State," the council said.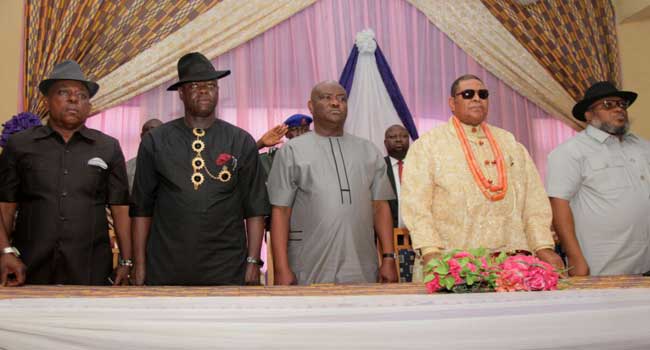 The monarch stated that by stripping Governor Wike of his trusted security details, 'the police have exposed him to attack by assassins, kidnappers and cultists'.
Even Development
On the delivery of democracy dividends, they lauded the governor for his state-wide execution of developmental projects.
"We are grateful to Governor Wike and his administration for the even distribution of road projects throughout the three senatorial districts of the state," King Jaja said.
In his address, the Governor assured the royal fathers that he would remain committed to the development of all LGAs in Rivers State, south-south Nigeria.
"No local government area will be neglected in this state. Every local government area will have at least two projects.
"I will complete the Ogoni-Andoni-Opobo-Nkoro Unity Road to link the riverine communities to the upland.
"My motivation is to ensure that leaders of Opobo who misused their opportunity should drive home by next year" he said.
Governor Wike also hinted that a day would be set aside to celebrate the roles of traditional rulers in the emancipation of the people of Rivers and creation of the state.
However, he said he has handed his safety to God.