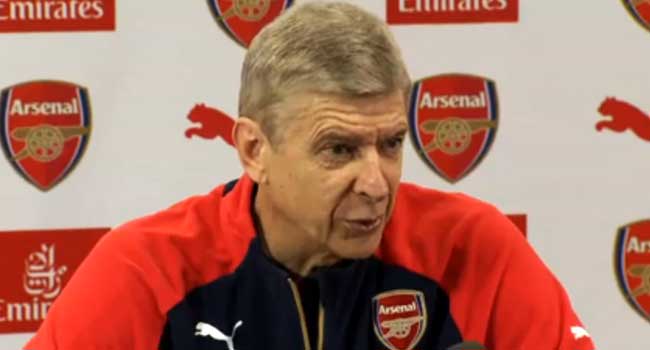 Despite back-to-back Premier League defeats Arsene Wenger insists his Arsenal side are still in the Premier League title race.
The Gunners are 12 points behind leaders Chelsea with 14 matches to play but Wenger insists his fourth-placed team are not yet out of the running.
"It's never over – we cannot behave like that," Wenger told Arsenal.com. "Even if you think it is, I don't. We cannot even think like that.
"We look at the teams around us and we're all in a pack that is very tight, where the fight for every position will be massive like it has always been in the Premier League, maybe even more this season than ever before.
"The way we respond to our disappointing result last Saturday is vital. If it is over for us, it's over for everybody else. We are all together in a pack there, so first we have to focus on staying at the top, and then if we can reduce the distance between us and Chelsea after, you never know.
"They have an advantage where they aren't playing in Europe. They have no midweek games, so of course they are in a very strong position."
Arsenal next play a revitalised Hull City side fresh from a 2-0 victory over Liverpool, at Emirates Stadium on Saturday.
Wenger is not underrating The Tigers taking close look at their revival under new manager Marco Silva.
"Not really because I felt they played well since the start of the season but they had not always the results," he said.
"The Premier League is difficult for everybody – they were a bit unlucky sometimes so they are a tough opposition for us.
"Every game is difficult, especially at the Emirates. We have to prepare well to face a Hull team with more confidence than when we played them, so we have to prepare well.
"We need to focus on what we do well and the quality of our game. As well these players have been great players [before] last Tuesday, they are still great players one week later. You are not a different player. You have to have common sense a little bit."