Ali Modu Sheriff Faction Holds Town Hall Meeting In Delta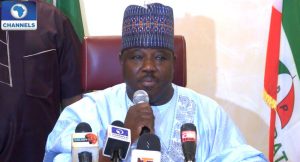 The PDP factional Chairman, Ali Modu Sheriff  has taken his farmiliarisation tour to Delta state, where he held a town hall meeting with party members in Agbor.
The meeting forms a part of his tour to all the states in the south-south and southeast, with the aim of fostering unity in the party.
According to the Chairman of the party, impunity must stop to allow the people choose their own leaders.
"We will continue our job as excos as we rely on the hope of the common man, the court, to decide who is right and who is wrong.
"What we want to achieve in the PDP is to take the party to you people, you should be able to choose who you want in your village as your leader and not the person that someone will impose on you. Unless we do that, the party will not come back to where it was in 1999 "
Honourable Ehiozuwa Johnson Agbonayinma,representing Egor/ikpoba-okha who was also in attendance said "We rely on the constitution of the Federal Republic of Nigeria, even in our PDP constitution, there is no such place as the caretaker committee"
The leadership crisis of the PDP at the national level started after the May 21, non-elective National Convention of the party in Port Harcourt, which dissolved the National Working Committee led by Amodu Sheriff and raised a National Caretaker Committee.
However, there was another non-elective national convention of the party which extended the tenure of the National Caretaker Committee on August 17, 2016 which also held in Port Harcourt.
Thereafter, several reconciliation efforts were made to reunite the party, including the setting up of a committee by the party's Board of Trustees
For now, the court has slated judgment on the crisis rocking the party for February 17, 2017 and party faithfuls are hopeful that the outcome of the judgment would afford the PDP the much needed tonic to re-position the party for the 2019 general elections.