MNJTF Hosts Delegation Of Ministers From Lake Chad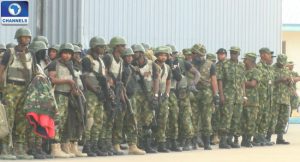 The headquarters of the Multinational Joint Task Force Ndjamena on Friday hosted a delegation of Council of Ministers, from Lake Chad Basin Commission and Commissioner for Peace and Security African Union.
The delegation was led by the Executive Secretary and Head of Mission LCBC Sanusi Imran Abdullahi.
The Deputy Force Commander MNJTF, Brigadier General Moussa Mahamat Djoui who represented the Force Commander Major General Lamidi Adeosun assured the delegation of MNJTF commitment to ensure the Boko Haram terrorist are defeated in the shortest possible time.
The Head of Mission / Executive Secretary LCBC said the intention of the visit was to showcase to the Ministers what they are capable of doing.
He further pointed out that in LCBC there is no demarcation, no nations, as we all work as one and as a team for a common mandate and objective.
While commending the officers and men of MNJTF on behalf of the Council of Ministers of the LCBC, the Minister of Water Resource of Nigeria Suleman Adamu expressed his appreciation for the brief of activities and achievements of the MNJTF, in bringing Peace and Security in the Lake Chad region.
Minister Siddik Abdel Karim thanked the Heads of States of LCBC for the great initiative to effectively implement MNJTF.
The visit witnessed a detail brief in the activities, achievements and prospects of the MNJTF and visitations.
In other to enhance mobility of troops in the various sectors, 15 tactical vehicles and 30 motorbikes were handed over to the Commander MNJTF, who took advantage of the occasion to heartily thank the delegation from the AU and promised that MNJTF will keep working as a team to ensure success of its mandate.