Nigeria To Get $600mn From Global Fund In Three Years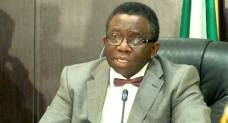 As part of efforts to strengthen health care services in Nigeria, the Federal Government is set to pay the sum of 10 million dollars as contribution to global fund in 2017.
The Minister of Health, Professor Isaac Adewale, stated that Nigeria stands to benefit up to 600 million dollars from the global fund in three years.
He disclosed this during a budget defense before the House of Representatives Committee on Health.
Adewale also said that the 2016 budget puts into consideration provisions to solve the problem of malnutrition in the north-east and appealed to the lawmakers to facilitate the release of funds.