Truck Carrying Liquor Causes Accident On Lagos/Ibadan Expressway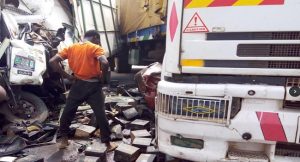 An accident has occurred at the Ayetoro part of the Lagos Ibadan expressway.
The accident involving a truck carrying liquor was coming from Kano to Lagos, while another empty truck en-route Lagos from Benin the Edo state capital.
According to eyewitness accounts, the incident would have been avoidable, if the drivers had observed the traffic rules.
All persons on both vehicles are alive but the injured ones have been taken to the hospital.
Men of the Road Safety Corps are on ground to control the traffic that is already building.