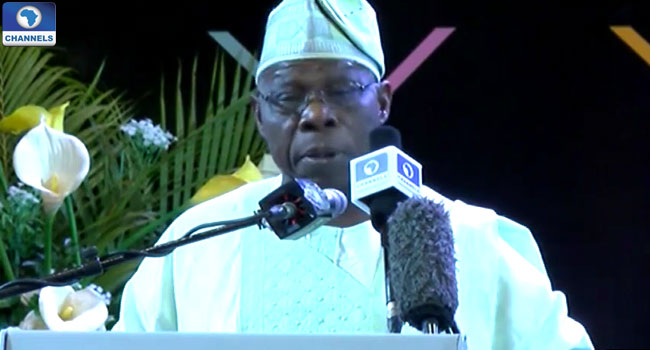 Former President Olusegun Obasanjo has identified the public and private sector as the two legs for Nigeria's socio-economic development, hence one cannot work effectively without the other.
He lamented that both the present and past governments in the country have not paid sufficient attention to work together with the private sector to develop the sector.
The former president made the remark at a seminar organised by the Kaduna Chamber of Commerce, Industry, Mines and Agriculture at the International Trade Fair Complex in Kaduna State.
The audience at the one-day seminar cuts across the business community, students, academia and political class.
Obasanjo, who was the chairman of the occasion, decried that Nigeria has not been able to harness her natural potentials in order to be at the same pace with other nations.
He faulted the reversal of the sale of refineries by the Umaru Yar'adua administration, which he said was largely responsible for the instability in the oil and gas sector.
The former president further stressed the need for government at all levels to collaborate with the private sector, in order to get Nigeria out of its present economic recession.
Need To Concession Critical Assets
A former Minister of Finance and National Planning, Dr. Shamsudeen Usman, also presented a paper with the theme: 'Promoting Public-Private Partnership (PPP) as Panacea for Accelerated Growth and Development'.
Dr. Usman emphasised the need for government to concession some of its critical assets like the sea port terminals, airports and roads to enable them work effectively and also reduce financial burden on government.
He explained that a smooth public-private collaboration must have the highest political support, credible reward sharing formula and transparency.
The former minister added that most of the successful PPP projects were done during the Obasanjo-led administration, due to strong political will.
The host governor, Mr Nasir El-Rufai, on his part, highlighted some of the collaborative efforts of his administration with the private sector to be able to finance its multi-year plan in the major sectors of the economy.
Participants at the event noted that infrastructure in Nigeria is poor, due to old age, overburden or poor management, to meet the needs of over 170 million population.
They added that the competing needs of the economy have placed a huge burden on the government which they said cannot solely provide all the services required.