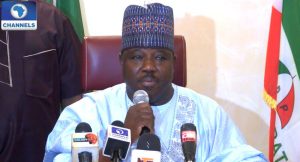 The National Chairman of the Peoples Democratic Party (PDP), Senator Ali Modu Sheriff, has officially resumed work at the national secretariat of the party.
Addressing the Imo State PDP delegation who paid him a visit in Abuja, Senator Sheriff said the party is in its current leadership mess because of the imposition of candidates against the wishes of the people.
He, however, stated optimism that he would return the party to the people.
On their part, the delegation led by Senator Hope Uzodinma pledged to mobilise the support of party members from the southeast region.
It appears the ruling of the Court of Appeal in Port Harcourt, Rivers State which reinstated Sheriff as the PDP Chairman has continued to trigger more controversy within the party.
This time, the chapter of the party in Kaduna state seems to have been divided over Senator Sheriff's supporters and those in Senator Ahmed Makarfi's camp.
Members of the state working committee unanimously threw their support behind Senator Makarfi and described the Court of Appeal judgement as a 'miscarriage of justice'.
However, some members loyal to Senator Sheriff have come out openly to distance themselves from the position of the party executive in Kaduna State, saying they are not part of it.
The group, led by Senator Musa Bello, said the judgment of the Appeal Court must be respected by every member of the party, hence they are solidly behind Sheriff.