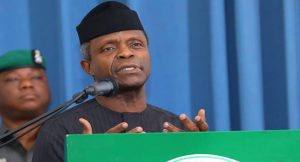 Acting President Yemi Osinbajo says the Nigerian elite has a responsibility to ensure that they do something fundamental to transform the Nigerian society.
Professor Osinbajo was speaking at the inauguration of the Sustainable Development Goals (SDGs) Private Sector Advisory Group at the Presidential Villa.
According to him, countries that have pulled their people out of poverty succeeded because the elite in such societies decided to do so.
Some of the targets of the 17 SDGs, which have taken over from the millennium development goals include: to overcome poverty, reduce hunger, introduce good health and quality education, as well as good jobs and economic growth.
The event was attended by captains of industry in the Nigeria, including the Chairman of Channels Media Group, Mr John Momoh.
The Federal Government believes that those present at the gathering are part of the Nigerian elite that must play a role to achieve the sustainable development goals.
In her address, former Deputy Governor of Lagos State, Mrs Adejoke Orelope, noted that no country can survive without the private sector.
She challenged the participants to bring their expertise to bear on the achievement of the goals.
The Chairman of Sahara Group, Tonye Cole, identified the non-involvement of the private sector as one of the reasons responsible for the non-performance of the millennium development goals.
In their various remarks, Mr Momoh and other sector representatives promised to unleash their experience and arsenals behind the goals.