El-Rufai Swears In New Commissioners, Permanent Secretaries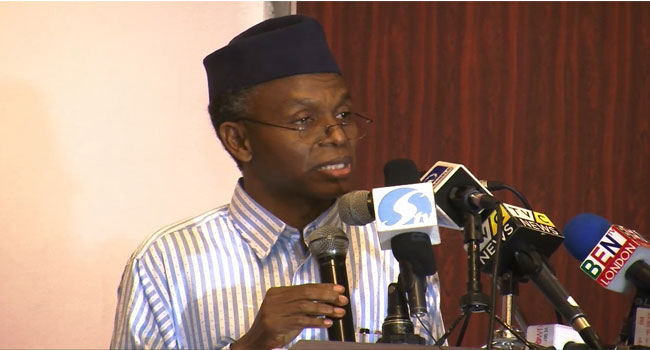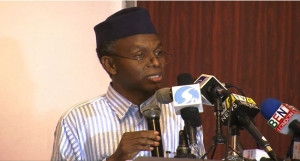 The Kaduna State Governor, Nasir El-Rufai, has sworn-in four new commissioners and eight permanent secretaries.
The new commissioners sworn in included: Barrister Umma Hikima, Attorney General and Commissioner of Justice, Jafaru Ibrahim Sani, Commissioner for Local Government, Professor Kabir Mohammed Mato, Commissioner for Agriculture and Forestry and Hafsat Mohammed Baba, Commissioner for Women Affairs and Social Development.
The governor also appointed two caretaker chairmen for Giwa and Zangon-Kataf Local Government Areas.
In his address at the inauguration of the appointees, El-Rufai said his government decided to bring new commissioners to energize the administration for better performance.
While commending the former commissioners for their service rendered to the people of Kaduna state, he explained that none of them were dropped or sacked but were deployed to handle other government assignments.
He reminded the appointees that they were joining the cabinet at a time the state and country as a whole is facing economic challenges, hence they must work harder to deliver on their mandate.
"I thank the former commissioners for their service in our state. I want to make it clear that we didn't drop any commissioner.
"None of our commissioners was dropped. Some former commissioners have been deployed to other functions of government. So, our team is intact and we are all together.
"We carefully selected our team members. We decided to bring new commissioners to energize the administration and to inject new blood.
"You are joining a 'wahala' team and I sympathise with you because we work with little earnings.
"The permanent secretaries were chosen based on their competence, integrity and all the directors chosen to be permanent secretaries sat for exams and faced oral interview so, we have the best of permanent secretaries," he explained.
Some of the appointees thanked the governor for deeming them fit to serve in his administration, hence, promised to contribute their quota towards making Kaduna state great again.