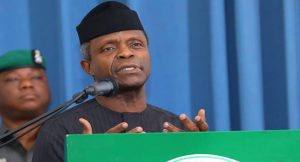 The Acting President, Professor Yemi Osinbajo, is calling on Nigeria's anti-corruption agencies to learn from the international community on the model some "less corrupt" countries have used to curb the menace in their country.
Osinbajo, who described corruption as systemic and life threatening, also appealed to the international community to assist Nigeria in the identification, recovery and repatriation of stolen assets.
Meanwhile, the Chairman of the Presidential Advisory Committee Against Corruption, Professor Itse Sagay, decried the perception and reaction of the public to corruption, saying that corruption is omnipresent in Nigeria.
Also recently, the Kwara State Governor, Abdulfatah Ahmed, called on members of the judiciary to stand against corruption and uphold the rule of law.
According to him, the recent happenings on alleged corruption especially against some members of the judiciary, make the public question the integrity of the judiciary.
While he advocated that rights of all citizens must be upheld regardless of age or gender, Ahmed also noted that the integrity, independence and impartiality of the judiciary are essential to promoting human rights and fostering development.