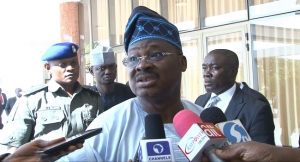 The Oyo State Governor, Abiola Ajimobi has felicitated with a former President of Nigeria, Olusegun Obasanjo, on the occasion of his 80th birthday, describing him as a quintessential leader and a passionate lover of his fatherland.
The governor's remark was contained in a statement issued in Ibadan by his Special Adviser on Communication and Strategy, Mr Yomi Layinka.
According to Ajimobi, attaining the enviable age of 80 is a special grace and remarkable feat which indeed calls for celebration.
"Chief Obasanjo deserves all the celebrations. He is not only a rare breed but also, a symbol of divine grace whose life is worthy of emulation by every Nigerian," he said.
The governor further commended Obasanjo for his strong belief in the indivisibility of Nigeria, saying this had informed his active participation in the 30-month civil war to ensure that the country remained together, under whatever circumstance.
Ajimobi also noted that since leaving office in 2007 as President and Commander-in-Chief, Obasanjo had never wavered in participating in activities capable of promoting the socio-political and economic well-being of the country.
"Besides, as a father of the nation, he has been engaging in constructive criticism of successive administrations, all in an attempt to ensure good governance and better life for all Nigerians," he said.
The governor prayed God to grant the former president long life and sound health so that he would continue to serve Nigeria, his fatherland.