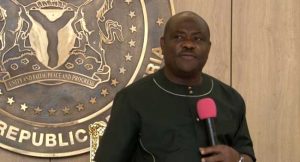 Rivers State Governor, Nyesom Wike, has accused the Independent National Electoral Commission (INEC) of plotting to rig the 2019 elections in the state.
Governor Wike alleged that the redeployment of the 23 electoral officers from the state by the commission was to make way for those in favour of the opposition party.
He noted that the Peoples Democratic Party (PDP) is prepared for the election, adding that the redeployment is a welcome process.
The governor, who spoke in pidgin, made the remarks during a visit to Etche Local Government Area of Rivers State, south-south Nigeria.
He announced the construction of Odufor-Akpoku-Umuoye road, as a reward to the people for supporting the PDP during the Etche/ Omuma federal constituency supplementary elections in the state.