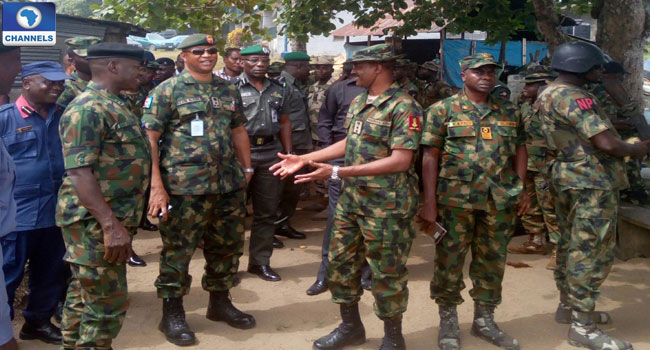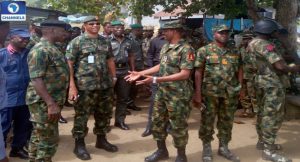 Troops of the joint operation Delta Safe, have intensified operations against crude oil theft and clamped down on 80 illegal refineries across Bayelsa, Delta and Rivers states recently.
This was revealed in a statement signed by the Co-ordinator, Joint Media Campaign Centre, Major Abubakar Abdullahi.
In Bayelsa state, the troops, who patrolled around Obhoyohan and Ngiri Creeks in Nembe Local Government Area discovered and destroyed seven illegal refineries containing 150,000 litres of suspected stolen crude oil.
Meanwhile, in Delta state, a network of six illegal refineries made up of four storage tanks, two dug out pits filled with products suspected to be stolen crude oil, were discovered around Sara Abileye Swamp in Warri south west LGA.
Additionally, another patrol at the Ajoloso Creek axis in Elume community destroyed a camp, housing eight illegal refineries.
Similarly, troops destroyed nine illegal refineries comprising of four ground pits and three metal tanks filled with products suspected to be stolen crude oil at Katu, near Camp 5 also in Warri south west.
This is in addition to seven illegal refineries earlier destroyed around Opunami Creek.
Another patrol conducted around Udu, Ughelli South Local Government discovered eight illegal refinery depots at Udu trailer park and destroyed 1200 drums laden with 140 metric tonnes of illegally refined diesel.
In Rivers state also, troops destroyed other 10 illegal refineries around Bolo in Bonny Local Government.
This is in addition to 25 others earlier raided at Creek 6 and Ijokiri in the same LGA.
Three suspects have however been arrested in connection with the illegalities, and are currently undergoing investigation
The statement further appealed to citizens to cooperate with security officials.
"Let me appeal to all law abiding citizen to continue to support Operation Delta Safe operational activities with valuable information.
"All hands must be on deck to frustrate the activities of economic saboteurs.
"Let me also advise the sponsors and operators of illegal refineries to desist from the economic sabotage which begets environmental pollution and other social problems. Our troops would not relent until our mandate is achieved".