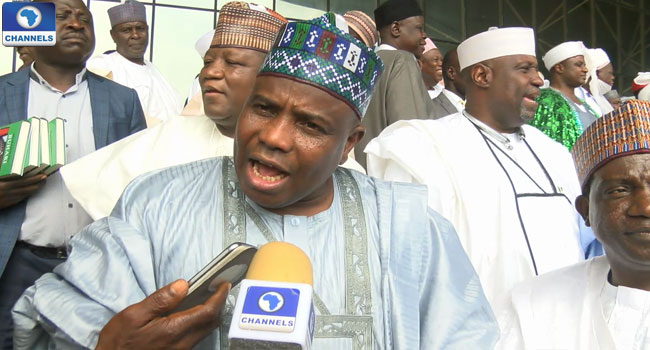 The Federal High Court in Abuja has struck out an application filed by Senator Umar Dahiru seeking to amend the suit challenging the nomination and subsequent election of Governor Aminu Tambuwal of Sokoto State.
Senator Dahiru based his motion on the basis that the Governor was wrongly nominated by the All Progressives Congress (APC) in the election which held on April 11, 2015.
However, neither the plaintiff Senator Dahiru, nor Governor Tambuwal, were in court for the ruling.
In his ruling, Justice Gabriel Kolawole, dismissed the application for amendment because it was not the application remitted by the Supreme Court for retrial.
Justice Kolawole held that the plaintiff had claimed in his motion on notice filed on January 27, 2015 that the primary election conducted on December 4, 2014 by the APC which produced Governor Tambuwal was a sham and in gross violation of the Electoral Act 2010 and the APC Election Guidelines.
He, however, said the plaintiff had then somersaulted to file a fresh motion on notice, seeking the variation of his pleadings in his earlier suit to the effect that he should be declared governor based on the same primary election.
The judge said the plaintiff "intended to steal a match which [he] originally said was null and void", and in essence to have a second bite of the cherry.
On this basis, the judge consequently struck out the plaintiff's motion in its entirety.
Justice Kolawole added that granting the application will occasion injustice on the part of the first and second defendants because the motion on notice did not intend to cure any misnomer.
He highlighted that granting the application for amendment of the reliefs would change the "nature and character" of the case file which the Supreme Court had remitted to the High Court for retrial.
The judge ruled that "in view of the fact that the application is dismissed, the case file has become empty and there is nothing to adjourn or be heard", adding that "the suit is struck out and has been dismissed".
While counsel to the defendants, Jubrin Okutekpa, applaud the ruling, lawyer to Senator Dahiru, Abdulhamid Mohammed, said they would study the judgement for the next step to take.