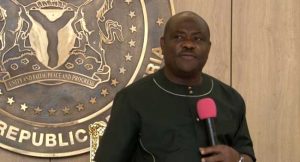 Rivers State Governor, Nyesom Wike, has appealed to the Nigerian Army and other security agencies to adopt more refined ways of destroying illegal refineries in the state.
Governor Wike made the appeal when he received the General Officer Commanding, Six Division of the Nigerian Army, Major General Enobong Udoh, at the Government House in Port Harcourt, the state's capital.
He stated that the methods currently adopted by security agencies in destroying illegal refineries were harmful to the environment.
The Governor, who stressed the need to stop the illegal refineries from operating, said such actions must not expose the people to extensive and prolonged danger.
According to him, the outcome of the uncontrolled destruction of illegal refineries without precautionary measures forms part of the reasons why the state is suffering from black soot.
"The present mode of destroying illegal refineries is negatively affecting our environment. Everywhere across the state you see black soot deposited on surfaces of buildings, cars and other structures.
"The State Government is working hard to resolve this environmental challenge, but we need the cooperation of the Nigerian Army and other security agencies on the manner they destroy illegal refineries ", Governor Wike urged.
He stressed that his administration would continue to take steps to protect Rivers State from such environmental hazard.
The Governor said the health of Rivers people depend on the environment, hence the state government would work with all stakeholders to stop the soot.
In his response, Major General Udoh assured Governor Wike and the people of the state that he would continue to work professionally to ensure that they benefit from the presence of the Army Division in the state.