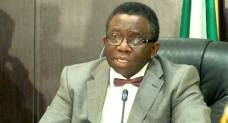 The Federal Government has reiterated its commitment to repositioning the health sector through the revitalisation of the primary healthcare system.
The Minister of Health, Professor Isaac Adewole, stated this on Saturday at the launch of the National Primary Healthcare Supply Chain in Abuja, Nigeria's capital.
Professor Isaac Adewole said the revitalisation of the nation's primary healthcare system was the only way for the Federal Government to deliver on its election campaign promise of affordable and accessible healthcare for all.
"The revitalisation exercise signifies a major commitment of Mr President to provide leadership in an effort to reposition the nation's health system.
"Many of us who have been actively involved with the health system recognise that what we've practiced hitherto was an inverted pyramid with the tertiary healthcare system at the tip and the primary at the base.
"When the pyramid is inverted, it is not a stable pyramid and most Nigerians will access help by visiting the next or the most available tertiary institution and I did mention that this cannot stand.
"As part of efforts to revitalise the nation's health system, we recognise clearly that repositioning the primary healthcare system is the way forward.
"It also enables us to translate the agenda of the APC administration; that manifesto simply stated accessible healthcare system within three to five kilometres radius with affordable healthcare to the people.
The Executive Director of National Primary Health Care Development Agency (NPHCDA), Dr. Faisal Shuaib, on his part commended the Federal Government's plan.
Dr. Shuaib expressed optimism that the programme would accelerate the achievement of the Universal Health Coverage.