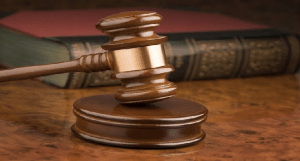 Family members of a slain commercial driver allegedly killed by men of the Nigerian Customs Service in Abeokuta, the Ogun state capital, have demanded justice.
They have asked appropriate authorities to ensure that the killer of Sabauna Onila, a father of four, does not go unpunished.
Lamenting over the loss, Onila's mother pleaded that the government should intervene in the case, as her son had been the only one taking care of her while he was alive.
"Government should have mercy on me, it has been three years I have been at home. I am sick and he was the one who has been taking care of me before this unfortunate incident happened so, government should ensure justice is done," she said.
A committee set up for the defense of human rights in the state has also called on the Federal Government to have a review of operations of the service while ensuring justice is served.
The committee's chairman believes that the "right to life is a non-negotiable right; you don't have the right to take my life unjustly. The killing is condemnable – we cannot fold our arms and allow this to continue running.
"We have come out as a civil society organisation with the responsibility of defending people's rights to tell them that the rights of the people is non-negotiable, we have asked the Federal Operations Unit of the Nigerian Customs Service and the state command to relocate to the borders for effectiveness.
"If our borders are not well protected and allow the passage of these suspected smuggled goods, then it should be their fault," the committee chairman stressed.
Also speaking on the case, the state Commissioner of Police, Ahmed Iliyasu, said the police is on top of the situation as the incident is still being investigated.
"All other security agencies have concerns for the life and property of the citizens of this country.
"The state government, as well as other security agencies are on top of the situation, they are having a discreet look at the situation and the issue is an issue that is being given proper attention by the government so that the stability and peace of state will continue to be guaranteed," he said.