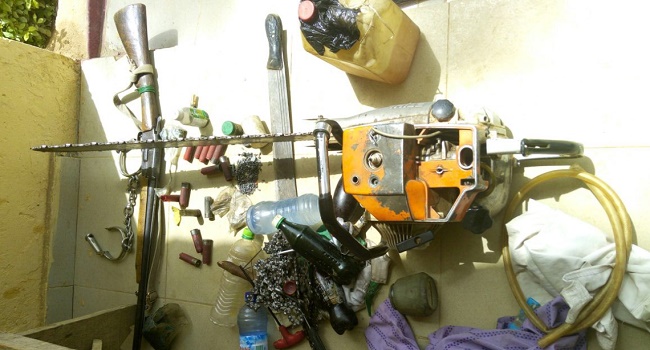 Troops of Operation Lafiya Dole and other Internal Security operations have recorded success in their clearance operation, patrols and raids in suspected areas where Boko Haram terrorists, cattle rustlers and other criminals were hiding or sighted.
Troops of 232 Battalion of 23 Brigade were on patrol towards Gombi, Guriki and Bobini towns in Adamawa State, to prevent Boko Haram terrorists infiltrating from other parts of Borno State.
In a press statement by the Director Army Public Relations, Brigadier General Sani Kukasheka Usman, "Troops in Garkida have continued to maintain blocking positions through patrols close to Jau area, to fix any fleeing Boko Haram terrorists.
"Other units under the Brigade have also steered patrol towards the Wurolade village to prevent terrorists infiltrating through our border from Republic of Cameroon, while those deployed at Hong have intensified patrol at Mararraba Pella, Kalla and Shangui as well as Hong- Garaha road.
"Troops of 120 and 159 Task Forces Battalions of 27 Task Force Brigade have maintained aggressive clearance operations".
On their part, troops of 154 Task Force Battalion, 29 Task Force have also been carrying out their patrol to Mauli with the aim of destroying Boko Haram terrorists. While 156 Task Force Battalion have embarked on route clearance patrol along Alagarno-Mauli.
The 33 Brigade Nigerian Army following a tip-off on the presence of suspected cattle rustlers and armed bandits at Dutsen Kelembu around Dogon Ruwa, Ningi Local Government Area embarked on a fighting patrol to the general area. Although the suspected criminals fled, but the troops recovered one AK-47 rifle, one locally made gun and an empty magazine buried in cow dung. The patrol team destroyed the cattle rustlers' camp.
The Brigade also arrested a former Assistant Police Inspector, Odigba Elias and Abdulwahab Adamu at Married Officers Quarters in Shadawanka Barracks, Bauchi, in possession of one Single Barrel Gun, four cartridges, 11 empty cartridges, Gun powder, one Leg chain, one Motorcycle and one Cutting Machine, both suspects are being interrogated.
Similarly, troops of 301 Artillery Regiment and 231 Battalions have also intensified patrols in southern parts of Borno and Gombe States to destroy fleeing Boko Haram terrorists from Ajigin and Talala axis.
The troops of 251 Battalion, seven Division Garrison deployed at Ummarari while on routine patrol discovered 2 wrapped suicide bomb vests possibly kept there for pick up in the bush. The troops called the Nigeria Police Explosive Ordinance Team who safely detonated the vests.
The troops of 7 Division Gun Boat Company responded to a distress call by cattle rearers at Aramari village very close to Konduga on the presence of Boko Haram terrorists rustling over 1,000 cows from them. The troops mobilized and rescued two persons along with the rustled cows intact while the terrorists fled.
Also, troops of 145 Task Force Battalion of 5 Task Force Brigade arrested a suspected Boko Haram terrorist, Auta Abdullahi attempting to enter Damasak from Niger Republic. Although the suspect claimed to be a herbs dealer, preliminary investigation confirmed his membership in the Boko Haram terrorists group, but he is still under interrogated.
Some elements of the Brigade while advancing to clear an objective, encountered an Improvised Explosive Device (IED) at Duoma near Damasak. The fragment of the IED damaged the door of one of the armoured Personnel Carrier.
Further investigation confirmed that the IED was made of compartments of Acetylene Gas Cylinder and Pressure Plate Switch.
On Saturday night, two female suicide bombers attempted to enter Maiduguri through Ummarari. One of them was shot by a soldier while the second panicked and detonated the suicide vest strapped to her body.
There were no casualty beyond the two suicide bombers.