FG Reveals Plans To Construct Four New Runways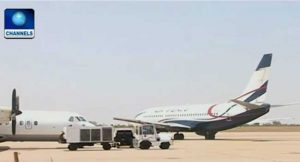 The Federal Government says four new runways will soon be constructed at four international airports in Abuja, Port Harcourt, Kano and Lagos.
The Minister of State for Aviation, Hadi Sirika, disclosed this on Tuesday when he led the Minister of Information around facilities at the Kaduna International Airport.
The Minister added that the expansion of the runways at the four airports would offer more direct local and international flights, as well as eliminate delays often experienced in the course of landing and taking off of aircraft.
"There will be a second runway in Abuja. Hopefully within the next 24 months, we would have a new runway.
"And then there is a second runway in Kano (the military runway), a second runway in Lagos and a second runway in Port Harcourt," Mr Sirika said.
The Minister of Information, Mr Lai Mohammed, on his part briefed reporters on the Federal Government's plan of a complete makeover on some of the airports across the country.
"As a government, we've put in place to the best of our ability, arrangements that will ensure security and also guarantee safety of operation both on tarmac and off tarmac, and on route," he said.