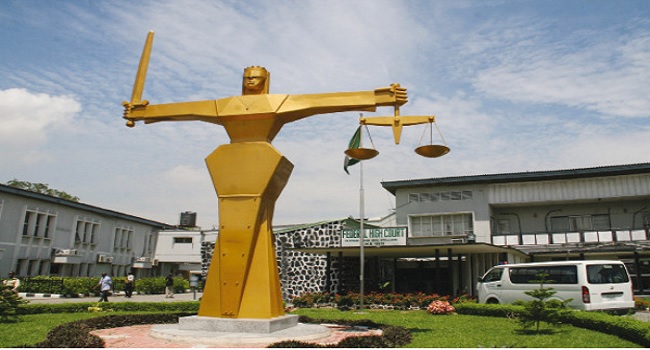 The Federal High Court sitting in Lagos has fixed for May 15, its ruling on two preliminary objections arising from the takeover of Arik Air Limited by the Asset Management Corporation of Nigeria (AMCON).
The Corporation had on February 8, 2017 announced that it had taken over Arik Air Limited.
AMCON said the step was taken to save the airline from collapse and in the best interest of the general public, workers, creditors and other interest groups in the aviation sector.
A legal practitioner, Mr Oluseye Opasanya, was then appointed as the Receiver Manager of Arik Air Limited, following its takeover by AMCON.
By an ex parte application on February 8, AMCON secured an injunction restraining the airline's "shareholders, directors, creditors, managers, officers, employees, servants, consultants, agents, representatives (and) privies" from interfering with Mr Opasanya's power to manage Arik Air.
However, four persons who were aggrieved by the court order – Sir Joseph Arumemi-Ikhide, Chris Ndule, Dr. Michael Arumemi-Ikhide and Sangowawa Olubiyi – filed a preliminary objection through their lawyer, Mr Babajide Koku.
They accused Mr Opasanya and the lawyer representing AMCON, Professor Koyinsola Ajayi, of engaging in professional misconduct and urged the court to void all the processes so far filed by Professor Ajayi on behalf of the Corporation and Mr Opasanya.
The grounds of their objection was that Ajayi and Opasanya are both lawyers practising in the law firm of Olaniwun Ajayi LP.
Mr Koku argued that by virtue of Rule 17 of Professional Conduct of Legal Practitioners 2007, neither Ajayi nor any other lawyer from the law firm of Olaniwun Ajayi LP could appear in a case where Opasanya was a plaintiff.
Opposing the preliminary objection, Ajayi stated that there was a distinction between Opasanya and the law firm of Olaniwun Ajayi LP where Opasanya works, and that there was no law stopping anyone from the law firm from representing Opasanya.
He also filed a preliminary objection challenging the locus standi of Koku's clients to file the preliminary objection.
Professor Ajayi argued that they were not parties in the suit in question which AMCON and Opasanya filed against Arik Air and the Inspector General of Police.
He described them as interlopers who should not be heard and urged Justice Mohammed Idris who is hearing the case to dismiss the preliminary objection by Koku's clients.
After hearing both preliminary objections on Friday, Justice Idris adjourned till May 15, 2017 for his ruling.