U.S. Lauds Nigeria's Efforts In Tackling Boko Haram Insurgency
The United States has advised countries facing challenges of terrorism to take a cue from Nigeria in winning the war against global terrorism.
The U.S. Secretary of States, Mr Rex Tillerson, gave the recommendation on Thursday at the 'Meeting of the Ministers of the Global Coalition on the Defeat of ISIS' in Washington.
The meeting was convened at a time when the activities of terrorist groups across the globe were on the increase.
Experts identified sharing of ideas at different fora as an important step in winning the war against terror.
Mr Tillerson also noted that information sharing was one way countries could defeat terrorism, adding that Nigeria and West African countries have done well in sharing information which he said resulted in foiling a great number of attacks.
He asked countries that have challenges of domestic terror groups to build up their information sharing systems, just as Nigeria did to win the war against Boko Haram insurgency.
The U.S. Secretary of States, however, recounted with sadness the attacks on some countries by terrorists groups and proffered solution on how to tackle them.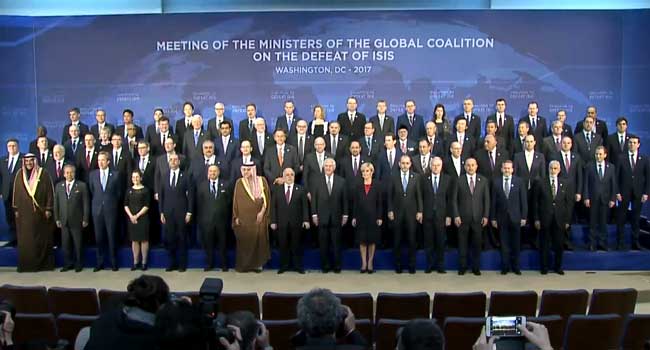 Nigeria's Chief of Defence Staff, General Gabriel Olonishakin, on his part pledged Nigeria's resolve to mobilise resources in order to confront violent extremists.
The Charge d' Affaires of Nigeria to the United States, Mr Hakeem Balogun, also highlighted the effects of the commendation on Nigeria.
The meeting was attended by representatives from 68 countries including Nigeria, Afghanistan, Egypt, Iraq, Libya, Morocco and Somalia.