Obiano Tasks Anambra Judges On Speedy Dispensation Of Justice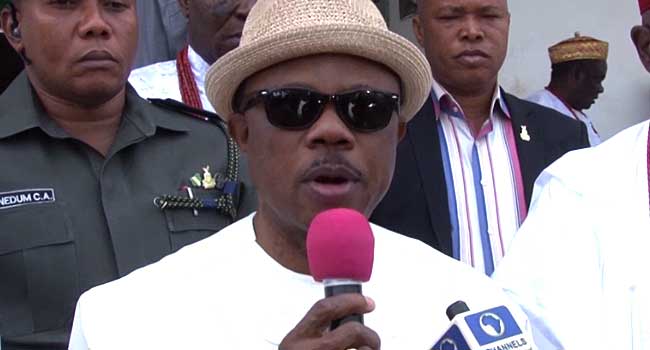 The Anambra State Governor, Willie Obiano, has appealed to the 28 High Court Judges and the four Judges of the Customary Court of Appeal, to assist in ensuring speedy dispensation of justice in cases being brought before them in the state.
The governor stated this during the swearing in of two High Court Judges at the Governor's Lodge, Amawbia, where he expressed worry that over 75 percent of inmates in prisons across the state are all on awaiting trial list.
A former Chief Registrar, Mrs. Ngozi Oyeka and a Private Legal Practitioner, Mr. Sylvester Odili, were the two newly judges sworn in, bringing to 28 number of High Court Judges in Anambra state.
Addressing the newly appointed judges, the governor stated that the appointment would help to reposition the state judiciary to effectively address the problem of delayed dispensation of justice.
"I am very proud of this day because in three years of my administration, I was able to bring the judges rank to ten.
"I stand to be corrected if any other governor has had the privilege of signing the certificates of that number of judges in three years.
"This is a landmark achievement and therefore we expect that with your number, now 32, including the judges of the Customary Court of Appeal, so with this massive number, I expect that the challenges we are having with awaiting trial will be solved significantly.
"Over 75 percent of our prisons are occupied by people awaiting trial.
"It is not the fault of judges alone, we are also re-organizing the Police Department of Prosecution to be up to beat in respect of the document they bring to the court", the governor lamented.
Responding to the appointment, one of the newly appointed Judges, Mrs. Oyeka, expressed delight at the appointment and assured that as a call to service, they would discharge their duties with diligence and commitment.
However, the governor, also assured of the state government working out measures with the police to expedite action in the preparation of case documents, to enable the courts to have clear evidences that will support prompt dispatch off cases before them.