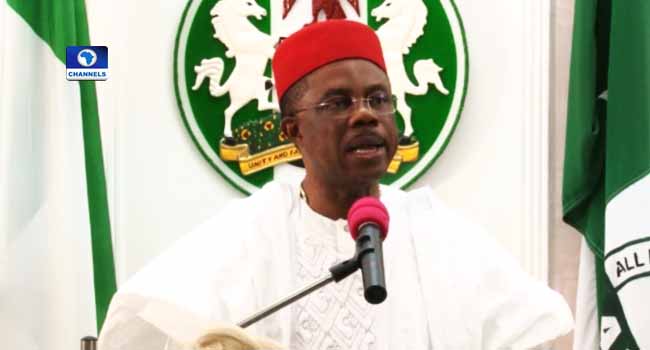 The Anambra State Governor, Willie Obiano, has announced several support measures for the development of education in Federal College of Education, Technical, Umunze, Orumba South local government area of Anambra state.
During the 23rd Joint Convocation ceremony of the institution where governor Obiano bagged a Fellowship Award, he stated that education was a critical enabler in his administrative blueprint and would also be a tool which youths could compete favorably, globally, and all efforts would be channeled towards improving it.
He announced the immediate commencement of construction of 1.8 kilometer Boulevard leading to the institution, immediate delivery of a 32 seating capacity bus and in addition to contracting the refuse disposal of the institution to a competent private sector firm and a donation of the institution development token of 5Million Naira.
The 23rd Joint Convocation ceremony of the institution was for 2,058 graduating students for the award of the National Certificate of Education (NCE), and Professional Diploma in Education (PDE).
The academic procession was impressive as the governor also joined and added to the spectacle.
At the convocation arena, speeches from the Provost, Professor Jehoshaphat Ogbuagu and the Executive Secretary of National Commission for College of Education, Professor Babb-Aliyu Muhammadu, who represented the Minister of Education, harped on objectives of higher education in producing teachers with occupational knowledge and skills needed for teaching technology relevant to the growth of Nigeria economy.
The Governor advised the graduating students and the need for them to take up the opportunities education had provided them with.
"As you have presented your certificates, you will see where it will say that you must be found worthy in character and learning, very critical key words for your future development and for the advancement of society."
He also contributed to the growth of the institution, "As the provost mentioned earlier that we have started work on. It is 1.8 kilometers, we will finish it and asphalt it. I have also told the Provost, although I have given you buses a couple of times to enable you to commute within this great institution, I will be giving you another 32 sitting capacity bus".
However, the governor was then decorated with Fellowship Award of the institution which is the highest award from the College reserved exclusively for selected persons who have proved their mettle in their areas of professionalism.
The award was in recognition of his giant strides in the development of Anambra state within a short period of time.