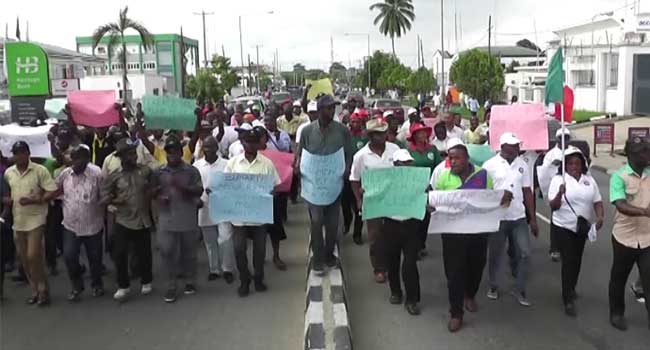 Members of the National Union of Local Government Employees (NULGE) have staged a south-east zonal rally in Enugu State.
The union members are asking for political, financial and administrative autonomy of all Local Government Areas (LGAs), for effective delivery of service at the grassroots level.
The demonstrators staged a rally from the Enugu North Local Government Area to the House of Assembly in the state.
NULGE National President, Ibrahim Khaleel, told the Speaker of the Enugu House of Assembly, Honourable Edward Ubosi, that they have come to sensitise the lawmakers on the need for autonomy of the LGAs, and its role in improving the living standard of the people.
"We are here because we want to sensitise and enlighten you on the need to strengthen Local Government administration in Nigeria. This is time to support the grassroots people who cannot move from their clan to the cities, it is the time to show that you are the true representative of your people.
"We are canvassing for this so that the resources for Local Governments hijacked by various State Governments can go to them, to enhance the welfare of their people," Mr Khaleel said.
The Speaker, who was represented by his deputy, Honourable Donatus Uzogbado, assured the union members of their full support in ensuring that the aim of the rally is fully realised.
"I believe you without any equivocation when you said that if government goes to the grassroots, it will impact more on our people. So I think your agitation is something good and positive, and because you have the masses in mind, the Speaker bid me to tell you that here in the State House of Assembly, we stand with NULGE.
"We stand with the people and they are the ones we represent. We shall do the needful at the right time to ensure that this interaction draws home the needs of our people, so that everybody will be happy," he said.