Palm Sunday: Christians In Anambra Pray For Nigeria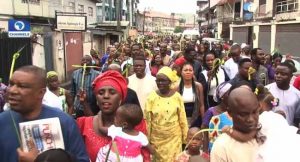 Christians in Anambra State, from the Church of the Holy Spirit, Awka, the state capital, engaged in a procession in celebration of the Palm Sunday.
The Vicar of the parish, Reverend Canon Jason Onyeakagbusi, upon the return of the congregation and clergy from the procession, prayed that the palms be a sign of victory for the church.
He also prayed that just as Jesus Christ triumphantly entered Jerusalem as king, he would enter every nation, especially Nigeria and Anambra state and cleanse them of every political and economic mess.
"Jesus triumphantly entered into Jerusalem, it is also our belief and faith that he will enter into every heart triumphantly and when he enters into the heart, he will cleanse the mess. Jesus will enter into every nation – He will enter into Nigeria and when He enters into Nigeria, every political mess, and economical mess will be cleansed.
"When He enters into Anambra state, every economic mess, every political mess will be cleansed and we will have a cleaner place to live in, a place where the will of God is done," Reverend Onyeakagbusi said.