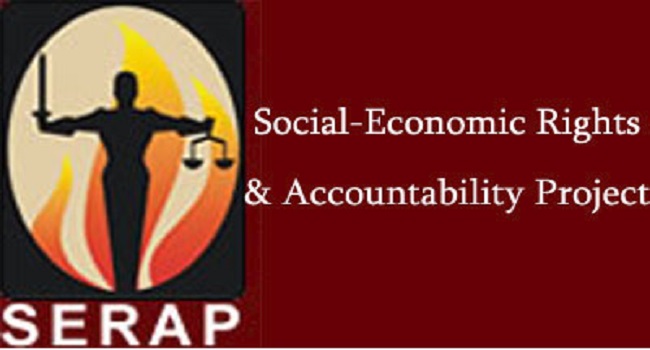 As the Nigerian government's anti-graft war continues to draw reactions, the Socio-Economic Rights and Accountability Project (SERAP), has asked the President, Muhammadu Buhari, to refer high level official corruption cases to the International Criminal Court (ICC).
A statement released on Sunday, by the agency's Deputy Director, Timothy Adewale, stated that the measure would improve deterrence and show commitment in confronting grand corruption.
Mr Adewale further noted that referring corruption cases to the ICC should be part of a strategy to require a fundamental reform of Nigeria's criminal justice system.
"As a state party to the Rome Statute of the International Criminal Court, the government should also consider drawing from the expertise, experience, and international best practices of the court to complement the mandates and powers of our anti-corruption agencies and judiciary to successfully and satisfactorily investigate, prosecute and hear high-profile corruption cases.
"The latest setbacks in the prosecution of high-profile corruption cases show the need for effective enforcement measures to weed out, expose, and punish grand corruption in the country. Referring large-scale corruption cases to the International Criminal Court would in the short-medium term improve deterrence, and at the minimum demonstrate a symbolic commitment to confront grand corruption head on.
"Referral to the ICC should be considered as a stop-gap measure, and as part of an all-embracing strategy that would inevitably require a fundamental reform of the criminal justice system and the strengthening and empowerment of the country's anti-corruption agencies.
"SERAP argues that corruption by high-ranking officials and their families and associates is an international crime, especially given the sheer amounts of national wealth involved, and the devastating effects of such plundering, including political instability, weak rule of law, and destruction of the country's economy.
"Without effective investigation and prosecution of high-ranking public officials charged with corruption, and a judiciary that is willing and able to satisfactorily play its own interpretative role, this government's fight against corruption may sadly turn out to be all motion and no movement, and this will eventually undermine the legitimacy of the anti-corruption efforts," the organisation stated.
SERAP also advocated that more training be provided to those charged with the task of investigating and prosecuting large-scale corruption.
"SERAP believes that radical and more robust criminal enforcement measures are necessary to appreciably improve anti-corruption efforts, by equipping, empowering and providing opportunities for training and re-training of those charged with the investigation and prosecution of large-scale corruption so that they can fearlessly, impartially, efficiently and energetically enforce anti-corruption laws and ensure justice for the countless victims of corruption in the country.
"It should not be the case that only petty offenders are successfully prosecuted while high profile corrupt officers escape punishment and justice. Prosecuting the 'small fry' and leaving the 'big fish' to go unpunished would send a particularly damaging message about the government's commitment to end large-scale official corruption, legitimize offenders' impunity, and clearly violate the underlying legal and moral assumptions that a govern­ment will treat all persons equally, fairly, and with respect.
"Effectively prosecuting high-ranking officials would help to persuade foreign jurisdictions keeping stolen public funds, and facilitate international cooperation and assistance that may lead to the recovery of such assets.
"Efforts must also be intensified to apply stronger preventive measures to ensure that Nigerians are informed of the dangers of corruption. By ensuring that the Nigerian public views grand corruption with a 'human face,' the public may be more likely to build a united front and demand change from their leaders, which, in turn, would gradually strengthen Nigeria's political will to end the problem. This is the surest way to help keep Nigeria fair, just, stable and prosperous.
"As the situation in the country has shown, corruption is costly to good governance, human rights and national development, and leads to erosion of confidence in good governance, rule of law and economic stability.
"SERAP argues that grand corruption in the country violates fundamental human values, and the values protected by international human rights law, as well as negates the doctrine of fiduciary relations that obligate public officers to faithfully perform the duties of their office, and to preserve state property."