Obiano Receives Army Committee On Human Rights Violation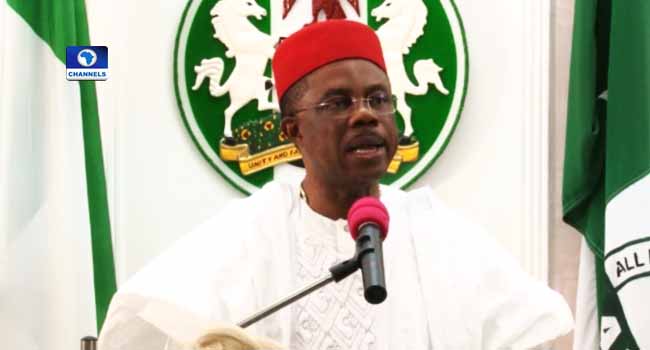 A nine man Special Commission on Human Rights Violation Committee set up by the Chief of Army Staff, General Tukur Buratai, was in Anambra state on a fact finding mission, to ascertain the roles played by the Military during protests by the Indigenous People of Biafra (IPOB) in 2016. 
Governor Willie Obiano received them at the Governor's Lodge, Amawbia, and listened to the leader of the team, Retired Major General Tijani Ahmed, briefing him on their mission.
Mr Ahmed explained that based on the accusations leveled against the Nigerian Army by the Amnesty International of violating human rights and committing war crimes in their dealing with insurgents in the northeast, Militants in the Niger Delta and IPOB in the southeast, the Chief of Army Staff had set up the committee to find out the truth or otherwise of the allegations.
He said, "The allegations made round the media, in the papers and specifically, the one that was made prominent was the one by the Amnesty International where allegations of extrajudicial killing, forced disappearance, torture and all manner of allegations were made against the soldiers.
"That's why the Chief of Army Staff set up this committee to investigate and find out exactly what happened".
For Governor Willie Obiano, there would not have been issues with the peaceful protests of the activist but for the hijacking of the exercise by hoodlums that wreaked havoc.
He suggested to the committees to reach out to the then Commissioner of Police who is now the Assistant Inspector-General of Police (AIG) in charge of Zone Nine, Mr Hassan Karma and Colonel Isah Abdullahi, who was the then Commandant of 302 Artillery Regiment, Onitsha, for the full details of all that happened in which officially, no death was communicated to him.
According to Obiano, "When you start some exercise, if you are not careful, it will be hijacked and when it is hijacked, it will change complexion from what was originally planned.
"So both IPOB and the Movement for the Actualization of the Sovereign State of Biafra (MASSOB), in my view, they comported themselves very well, but the challenge is that we have these hoodlums, we are talking about that joined the match and tried to use the opportunity to loot and do other things.
"I'm sure in the course of your investigation you will get all the details".