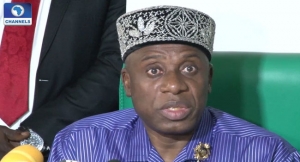 As the controversy over who owns the huge sum of money uncovered in a luxury apartment in the Ikoyi area of Lagos State continues, the Minister of Transportation, Mr Rotimi Amaechi, has denied any connection to the cash.
In a statement issued from his media office on Saturday, Mr Amaechi dismissed claims that the said funds recovered by the Economic and Financial Crimes Commission (EFCC) belonged to him.
He urged Nigerians to disregard such claims, noting that he does not know who owns the money or the apartment where it was found.
"For clarity and emphasis, Chibuike Rotimi Amaechi is not the owner of the $43 million and the Ikoyi apartment in which the money was recovered from.
"Amaechi has no business, link or connection to the money or property. Chibuike Rotimi Amaechi does not know who owns the money or Ikoyi apartment," he said.
Speaking to reporters on Friday, Governor Nyesom Wike said the recovered money belongs to the Rivers State government, and asked the Federal Government to return the funds.
The EFCC recovered 43 million Dollars, 23 million Naira, and 27,000 Pounds on Wednesday, April 12, following a tip-off by a whistle-blower regarding some suspicious movement of bags in and out of an apartment in Ikoyi.
The discovery came days after the anti-graft announced the recovery of 547,730 Euros; 21,090 Dollars and 5,648,500 Naira from a Bureau de Change operator in Balogun Market, Lagos.
Consequently, a Federal High Court in Lagos ordered that the funds be temporarily forfeited to the Federal Government of Nigeria.
Justice Muslim Hassan gave till May 5, 2017 for any interested party in the funds to show cause why the money should not be permanently forfeited to the Federal Government.